Fuel cards are an essential business tool that help companies manage their fuel and employee travel expenses. They offer a variety of perks and money saving opportunities when employees use them to purchase fuel.
But not all fuel cards are the same. There are many different providers, each of which offers specific perks. One important corner of the fuel card market is small businesses.
Small businesses face a different set of challenges to larger, more established businesses, and they need different fuel card perks and features. In this article we'll outline what small businesses should look for when choosing a fuel card, and list a few of the most attractive fuel cards for small businesses.
How can fuel cards help small businesses?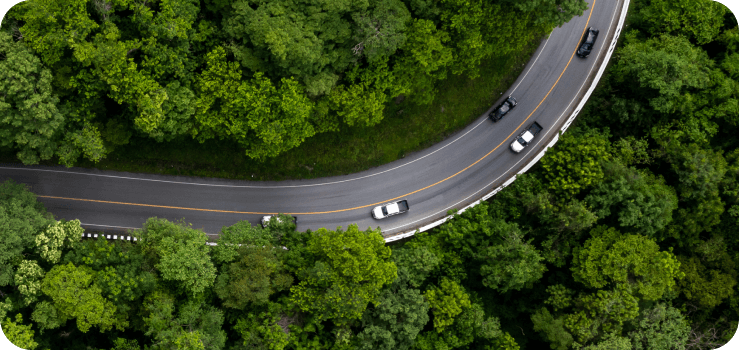 First, let's explain what fuel cards are and how they work. Fuel cards are payment cards that are designed specifically for purchasing fuel. While there are fuel cards that can be used by individuals for private fuel purchases, fuel cards are mostly used by businesses.
Fuel cards offer a variety of different benefits to small companies:
Savings on fuel
The main purpose of fuel cards is giving businesses access to cheaper fuel rates for their employees to use on fleet vehicles.
Centralised spend
By giving every relevant employee access to their own fuel card, businesses can also centralise their fuel spend and get rid of the need to reimburse employees separately. This reduces administrative workload and saves employees having to work with paper receipts.
Easier VAT reclaim
HMRC allows businesses to reclaim VAT on many different business expenses. But this process can be complicated and time consuming when you have hundreds of different receipts and invoices that you need to add to your VAT reclaim. Thanks to centralised fuel receipts, fuel cards also make it a lot easier for businesses to reclaim the VAT they're paid on fuel.
Access to perks and rewards
In addition to cost savings, fuel cards also offer a range of valuable perks and rewards, which can often be customised to the needs of your business.
Security
Because fuel cards can only be used to purchase fuel, they're significantly less likely to be targeted or used by thieves.
What should small businesses consider when choosing a fuel card?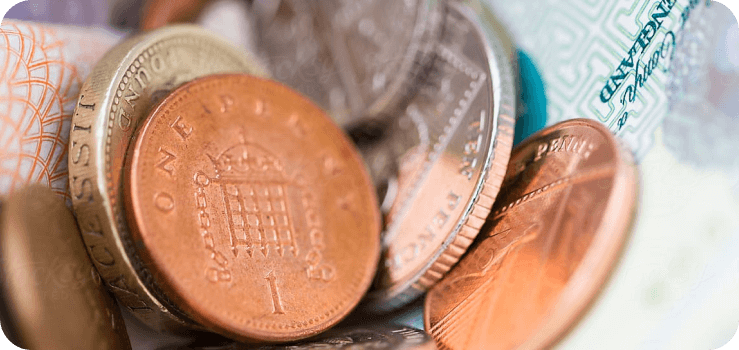 The most apparent, and perhaps most obvious challenge small businesses face in comparison to larger businesses is a lack of working capital. This impacts everything from hiring policies to product development, and expenses like fuel.
Smaller businesses need to be more careful with controlling their spend, and have to be more conscious of their cash flow. This means that, in general, fuel rates should be the main priority for small businesses when choosing a fuel card.
Pricing
The primary reason that most businesses use fuel cards is to save money on their fuel purchases. This can be through reduced administrative workload, but it's usually through direct savings on fuel. In terms of fuel pricing, there are three main models that fuel card providers use:
Weekly fixed pricing
With weekly fixed pricing you'll get a set price for fuel at the start of the week, depending on the wholesale price at the time. Depending on whether the price goes up or down during the week, you'll save significant amounts of money over standard pump pricing.
Pump price
Pump pricing is the standard price that you see listed at the pump. Fuel cards with pump pricing usually come with other benefits, like loyalty points and low membership fees.
Pump saver pricing
Pump saver pricing offers a discount on the standard pump price, usually a set amount per litre.
Network coverage
Coverage is another key consideration when choosing the best fuel card for your business. Network coverage refers to the number of petrol stations at which your employees can use their fuel card, and it varies significantly from provider to provider.
Some fuel cards are limited to specific petrol station brands, while others are limited to non-motorway petrol stations, or petrol stations in specific regions. Others combine multiple different petrol station brands for much greater coverage.
In general, broader coverage is the most attractive option for larger businesses with larger fleets. But broad coverage is often much less important for smaller businesses. If your employees only travel within a certain part of the country, or pass a specific petrol station brand, picking a card with less comprehensive coverage can be a quick and convenient way to save money.
Perks and additional benefits
Perks are the other main factor to consider when choosing a fuel card provider. Fuel card perks are usually a secondary factor for most businesses. But they can offer significant benefits which may sway your decision one way or the other.
The most common fuel card perk is reward points, which can often be added to supermarket loyalty cards like Tesco Clubcard or Sainsbury's Nectar card.
But some fuel card providers also offer additional benefits, like discounted toll road fees, or the ability to pay for food at service stations or vehicle-related maintenance.
The best fuel cards for small businesses
Now let's cover the top four fuel cards for small businesses. We've picked a few different options which should cover a variety of different needs, whether you're more interested in low prices, perks, or something in between.
Fuel Genie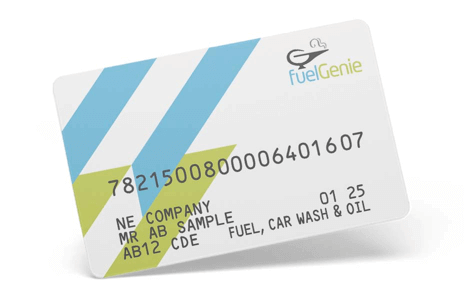 Fuel Genie is widely regarded as the best fuel card for small businesses thanks to its very low fees and solid fuel savings — cards are free to get, free to use, and will save you 3.4p per litre on average.
The main trade off with these low prices is reduced network coverage, which is limited to supermarket petrol stations only. However, your employees will be able to earn loyalty points on Tesco Clubcard, Sainsbury's Nectar Card and Morrisons More Card when paying for fuel with Fuel Genie.
For a small monthly fee you can also upgrade to Fuel Genie +, which provides greater network coverage and additional benefits.
| | |
| --- | --- |
| Pros | Cons |
| Very low fees | Limited network coverage (supermarkets only) |
| Loyalty points | |
| Online account management | |
Allstar One/Allstar Supermarket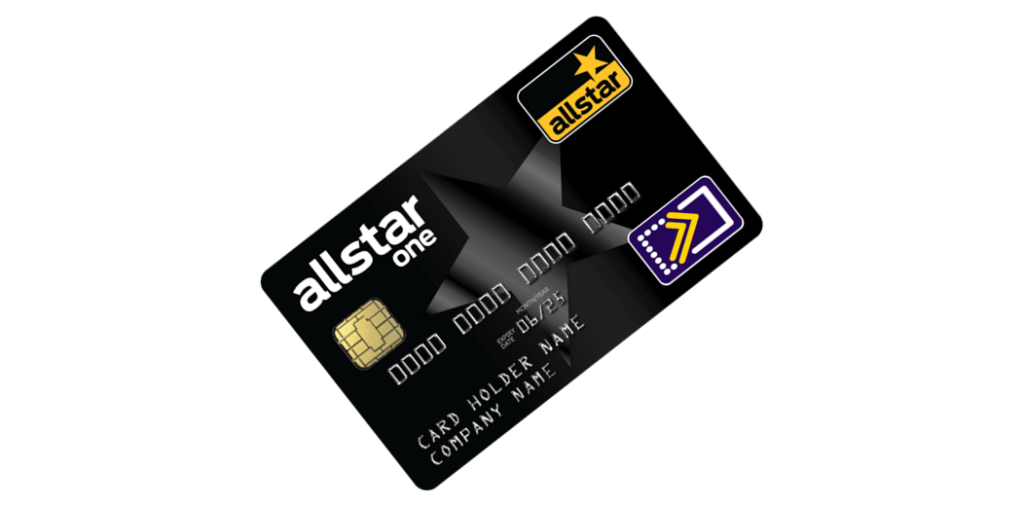 Another good option for small businesses is Allstar One. In contrast to Fuel Genie, Allstar One offers fantastic network coverage (around 90% of the UK), but it comes with a range of different fees, which make it more akin to a conventional credit card.
Allstar One charges £2.75 per transaction, so you'll need to avoid small refills. However, with 10p per litre savings on diesel, you can more than make up for these fees if you use your card regularly.
Alternatively, Allstar offers an Allstar Supermarket card which can be used at supermarket petrol stations only.
| | |
| --- | --- |
| Pros | Cons |
| Huge network coverage | A wide range of fees, including account fees and £2.75 transaction fees |
| Better prices with Allstar Supermarket card | |
| Online fleet management | |
Diesel Advance Prepaid Card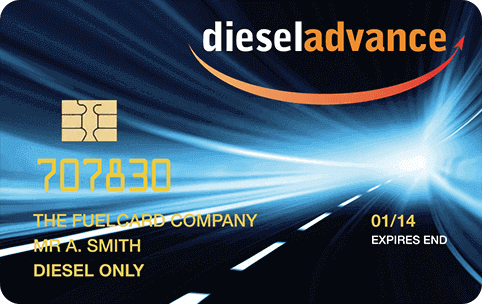 The Fuelcard Company's Diesel Advance Prepaid Card is a great option for small businesses with diesel fleets.
It offers a fixed weekly rate for diesel purchases on a network of over 3,000 petrol stations, meaning you can avoid market fluctuations and potentially save significant amounts of money over other providers.
Crucially, this card is prepaid, giving you more control on the amount of money that your drivers can spend each week. You can top up your Diesel Advance Prepaid Cards via credit or debit each week, or use direct debit to ensure your cards always have a set balance.
| | |
| --- | --- |
| Pros | Cons |
| Fixed weekly diesel prices | Limited to diesel purchases |
| Prepaid model to limit spending | |
| Good network coverage (3,100 sites) | |
The Fuel Store Card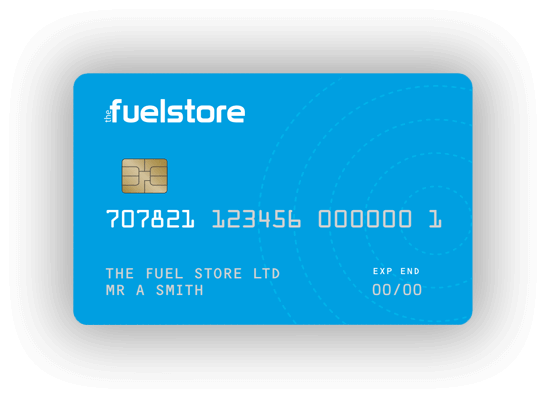 The final fuel card on our list is The Fuel Store Card. It's a good all-rounder, which offers solid network coverage and sizeable savings on fuel prices at the pump.
Unlike Fuel Genie, you have to pay an annual account fee of £15 per card. But you can use the card to buy essential vehicle-related products, like AdBlue and engine oil.
| | |
| --- | --- |
| Pros | Cons |
| Good network coverage and good fuel savings | £15 per card yearly account fee |
| Can be used to pay for other vehicle-related products | |
So, in conclusion, fuel cards offer plenty of potential benefits that businesses can take advantage of. The key to picking the right one is understanding your needs as a business.
Some businesses understandably prioritise low costs above all else. But there are additional perks and benefits which may make paying a bit more money worthwhile. Most of the fuel card providers we've mentioned above will offer custom quotes if you reach out to them directly, so it's probably best to inquire about a couple of different options before you make your decision.
Paying business expenses with Moss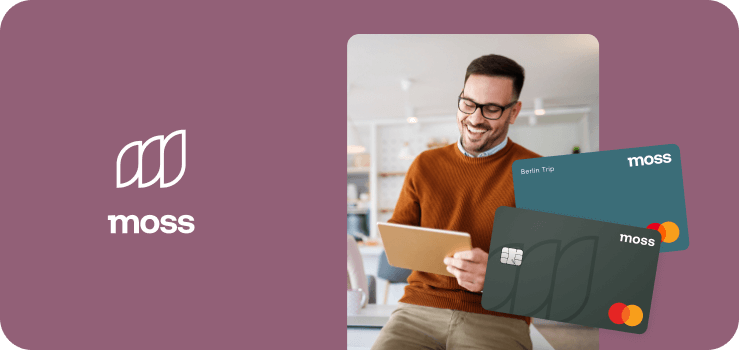 At Moss we unfortunately don't offer payment cards specifically for fuel. What we do offer is smart corporate credit cards that businesses can use to pay for all of their other expenses.
Moss smart corporate credit cards give businesses full control over spending with a range of backend features, like budget controls and digital receipts, that let you control how and when your employees can spend money.
Moss customers get unlimited virtual Moss cards that they can issue to employees or individual teams. This way you can easily separate your spend across department or project lines, without losing sight of the bigger picture.
FAQs
What are fuel cards?
Fuel cards are payment cards which are made specifically for purchasing fuel. They offer businesses better rates on fuel for vehicle fleets and, like credit cards, can be used to build points for other rewards and benefits.
Do fuel cards require a good credit score?
Your company's credit score is taken into account during the fuel card application process and providers will decline your application if your company has a bad credit score. However, there are options for businesses with poor credit, like prepaid fuel cards, or cards with less favourable rates.
Is it worth getting a fuel card?
Depending on the fuel card you choose for your business, and the amount of fuel your employees use in your company vehicles, fuel cards can be well worth the investment. With reduced prices on every litre of fuel that your employees buy, and other benefits, like discounted motor supplies and toll fees, you can save thousands of pounds of year on your company fuel bill.
Can a normal person get a fuel card?
While fuel cards are most often used by businesses, it is possible for individuals to get fuel cards for personal use from certain specialist providers. Fuel cards become more cost effective the more you use them, so if you travel a lot by car then a personal fuel card will most likely be worth the investment.
Can you use a work fuel card for personal fuel purchases?
Because of tax legislation, employees cannot use business fuel cards for personal fuel purchases. If they do, their employer may have to pay additional tax. If you're an employee and you do accidentally use a work fuel card for personal fuel purchases, you should inform your employee of the purchase and refund the cost of the fuel.
Latest posts by Henry Bewicke