An expense policy is essential for any business that deals with employee expenses. Think of it as a blueprint for the way your employees and company spend money on business-related expenses.
It allows you to outline rules for how and when your employees can spend company funds. And it establishes processes for reimbursing any money they do spend on work-related purchases.
To be effective, your company expenses policy should be clear and comprehensive. The clearer it is, the less confusion there will be about what employees can and can't claim, and the less time you'll waste on unnecessary admin.
Drafting such an important document may sound challenging, but it's possible to create an effective expenses policy without dedicating a huge amount of time and resources to the project.
So, in this guide, we'll explain how to build the right expense policy for your business. If done properly, it will make life easier for your accounting team and any employees that claim expenses.
Why do you need a company expense policy?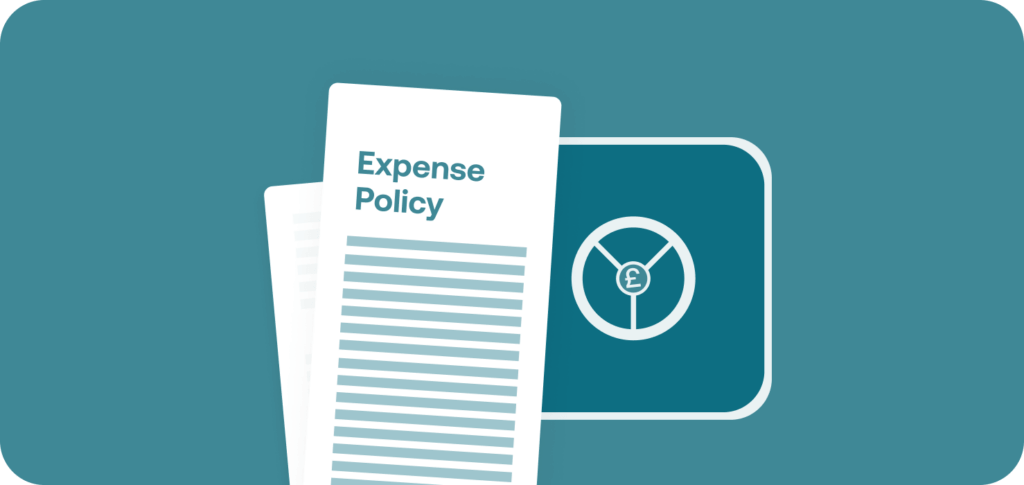 First, let's dive into why every company needs an expenses policy. They're relevant for just about every business, from the largest multinationals, to the smallest startups with just a handful of employees. As long as your employees are claiming money for work-related expenses, you need one.
Why? There are a few key reasons:
To ensure that employees only spend money on approved expenses
To protect the company from expenses fraud
To make everyone's lives easier (the accounting team and anyone who claims expenses)
Regardless of which approach you take towards expense management, the ultimate goal is saving money by controlling the way employees can (indirectly) spend the business's money.
Comprehensive accounting processes and good spend visibility play a similar role in a business's ability to control spend. They allow you to track where your business, as a whole, is spending its cash.
But, when it comes to outlining rules about how company funds can be spent by employees, nothing is more important than your spend policy document.
However, different companies take different approaches towards their business expenses policy. Some are a lot more relaxed than others. It all depends on the specifics of your business and what works best in your situation. Taking a more relaxed approach towards your expenses policy is a good way to build trust among your employees. But it will likely mean your business has to pay more in the long run.
What should you include in your expense policy?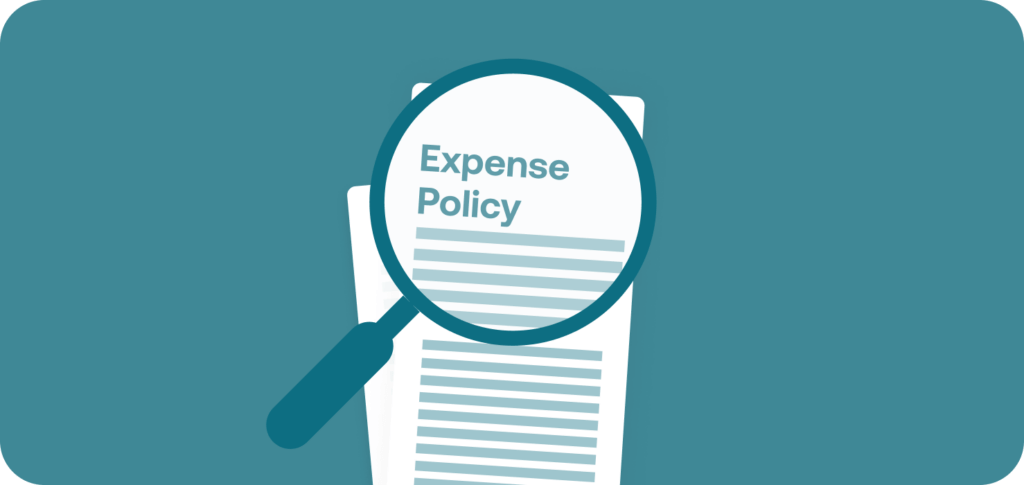 So, it should be pretty clear why you need a policy for employee expenses. But how do you make it as impactful as possible?
An effective expense policy should be:
Clear – This allows employees to understand, as easily as possible, what they can spend money on and then subsequently claim reimbursement from the company. The clearer your expense policy is, the less room there is for miscommunication and misspending.
Comprehensive – Your employee expenses policy should also cover every reasonable scenario for expenses claims, and should be the first and final reference for all expenses. If an employee has to come to your accounting team to ask about a specific expense, your expense policy isn't up to scratch. This doesn't mean making a 100-page manual, it simply means covering all relevant angles with concise wording, and being clear when it comes to edge cases.
Fair – It's important to make sure that your expenses policy is fair, and provides all of your employees with the same benefits and opportunities to reclaim money. Employees shouldn't be penalised with low reimbursement limits if they're facing mandatory costs for work-related travel, etc.
It's also important to remember that your expenses policy should be flexible. See it as more of a living document than a set-in-stone rulebook. You need to actively update and modify it as your business develops and the types of expenses your employees claim evolves over time too.
A prime example is Microsoft, which updated its expense policy and asked its employees to cut back on expenses claims and other business expenses in July last year. This move was part of a company-wide push to cut costs which involved spending changes across the business.
Together, these requirements for a comprehensive company expense policy may sound steep. But it's easier to create one than you'd think — given you stick to some key guidelines.
Common expense categories
Firstly, you need to consider the most common expense categories. These vary significantly from business to business. For example, agencies or consultancies where employees conduct lots of client-related travel will deal with travel expenses much more frequently than smaller startups.
Travel expenses: Travel expenses are significant business costs for many companies. Average expenditure on business travel fell dramatically thanks to the pandemic, but it's projected to increase to more than $59 billion for UK companies by 2025 (Statista). Clear rules on travel expenses are essential to keep costs down. For example, outlining guidelines for the type of flights (off-peak, budget airlines, etc.) and accommodation (specific hotel chains or price limits on rooms) is an easy way to ensure that your employees don't spend more than they need to.
Food and drink expenses: Food and drink is another common expense that businesses cover for their employees. This could be team lunch at the office, or an end of season party. Food and drink costs often go hand in hand with travel expenses, and are usually allocated per employee. Some businesses prefer to allocate food and drink expense budgets on a daily basis instead.
Entertainment expenses: Entertainment expenses fall under a similar category. They're typically costs that businesses pay when dealing with potential clients and partner companies etc. Entertainment expenses come with National Insurance and tax obligations for employers, so it's especially important to have clear rules for what employees can charge to the company when entertaining clients.
Outline budgets
Your business expenses policy also needs to communicate clear spending limits. This could be per-department, per-employee, or per expense category — whatever works best to limit overspending in your specific use case.
Reimbursement processes
Reimbursements are one of the most important parts of the expenses process, and certainly the part that your employees will be most interested in. There are many different ways to handle reimbursements and expenses in general.
Many smaller businesses choose to operate a cash float based upon the imprest system. This allows them to hand cash directly to employees for key work-related expenses, and easily keep track of any money that has left the float using a ledger.
But this approach is highly unscalable and generally avoided by larger businesses. Instead, they tend to choose a reimbursement model based around expense claims, or even bypass reimbursement altogether using corporate credit cards. These allow employees to pay for work-related expenses with credit or debit that's linked directly to the business itself.
Whatever your reimbursement model of choice, you need to make sure it's documented clearly in your expenses policy. This includes how long employees will typically have to wait for expense claims to be approved and reimbursed, preferred methods of communication, and instructions on how to use reimbursement software, etc.
Expenses for non-employees and interviewees
For many businesses it also makes sense to create separate expenses rules for non-employees. This could be freelancers, potential job candidates, or even clients. Microsoft is a good example in this case too. They outline expense rules and requirements for job candidates who are travelling for an interview with the company in a separate candidate expense policy. They also include a cleat list of non-reimburseable items that cannot be charged to company, like toiletries, trip insurance and clothing.
Localise your policy
If your business operates in multiple different jurisdictions or countries, it's also essential to localise your expense policy. Certain places will have different rules regarding benefits in kind (BIKs), tax liabilities and significantly different prices for common goods which may affect what your company has to pay.
Common expense policy mistakes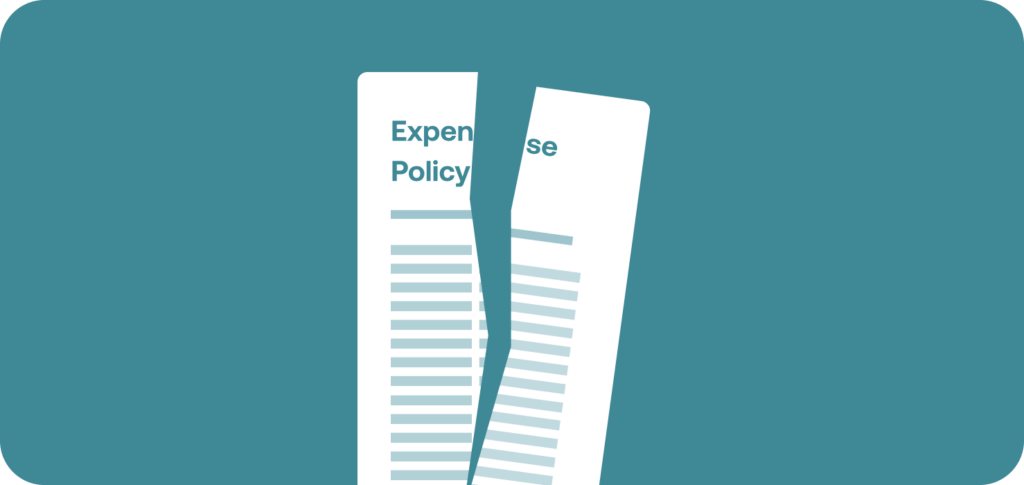 There's no one-size fits all approach to company expenses. Your expenses policy should reflect the individual needs of your business. However, there are some common mistakes that it's important to avoid.
One of the main risks that comes with an inadequate expenses policy is fraud. Company card misuse is a common avenue for expenses fraud, and it can lead to significant losses to businesses unlucky enough to fall victim to it. A comprehensive expense policy doesn't guarantee protection from fraud, but it makes it significantly harder for rogue employees to cheat the system.
In this case your business expenses policy allows you to outline expectations from employees and subsequent consequences if fail to meet them. This is an important aspect of creating an expenses policy that many businesses neglect, and subsequently leave certain aspects of their expenses policy open to 'creative interpretation'.
It's vital that you make employee expense policy training part of your mandatory onboarding for every new joiner. There's no point having an expenses policy if your employees aren't informed about what is expected of them when they use it.
Managing expenses with Moss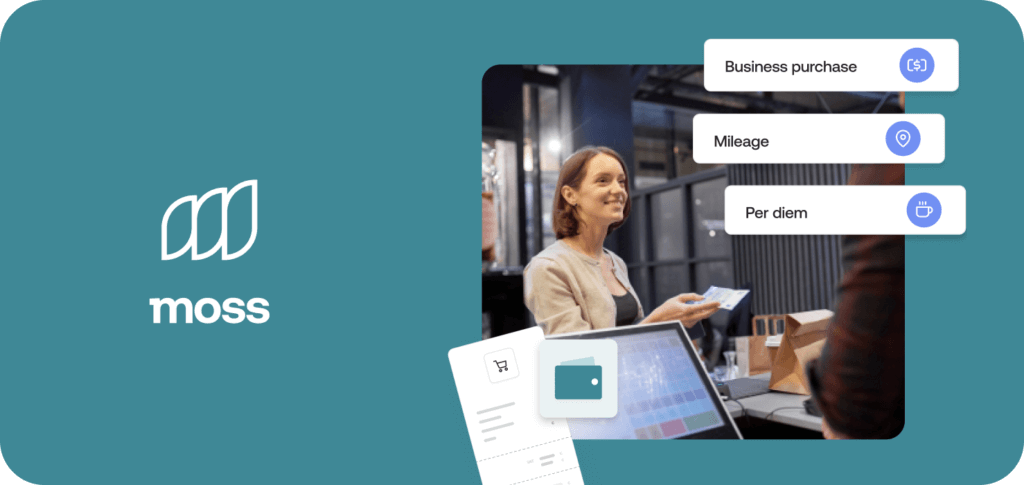 At Moss believe better spend management has the potential to improve the way companies of all shapes and sizes operate. We help businesses take control of their expenses with a range of smart spend management tools. With streamlined spend processes and increased spend visibility, you can save money and time across many different business functions.
Moss corporate credit cards allow you to allocate cards to individual employees, departments, or cost centres. You can track exactly what is being spent directly through the Moss app, and approve transactions on the move. Meanwhile, your team will be able to customize and monitor every aspect of the spend process with Moss budget control. You can now get smart budget trackers that notify you automatically when you're nearing a limit on certain budget or card.
By transitioning to our digital spend management process, you can increase financial accountability across your entire organisation. You'll also be able to rid yourself of the hassle of dealing with paper receipts, giving your accounting team more time to spend on tasks that matter.
FAQs
What is a business expense policy?
A business expense policy is a document that outlines which business-related expenses employees can claim for reimbursement from their employer. It also outlines how much employees can claim, and the specifics of the reimbursement process.
Why do businesses need their own expenses policy?
Businesses need their own expenses policy to ensure that money is only spent when and where necessary. It also ensures that employees are fairly reimbursed for any money they do spend on business-related expenses.
What are the most common business expenses that employees can reclaim?
In general, food and drink, travel and entertainment are the most common expense categories that employees reclaim. However, this can vary drastically from business to business, depending on what employees spend company funds on most often.
How do businesses reimburse their employees for work-related expenses?
In general, businesses reimburse their employees for work-related expenses with a reimbursement request process. The conventional process requires employees to submit receipts and a manager or admin to approve each request manually. With expense management software this process can be almost fully automated with digital receipt scanning and approvals via app.
How should businesses present their expense policy to employees?
It's important to get employees to read through your expense policy when they join your company. You should also have a digital version readily available for reference whenever needed.
Latest posts by Henry Bewicke