Corporate cards are a great way for companies to gain more flexibility, streamline accounting tasks and introduce their employees to highly efficient work processes. On top of this, the universal cashless payment method comes with several perks and rewards that can help a business move forward even quicker. Interested in learning more? Let's have a closer look and discover why they're so popular for work-related purchases.
What are corporate cards?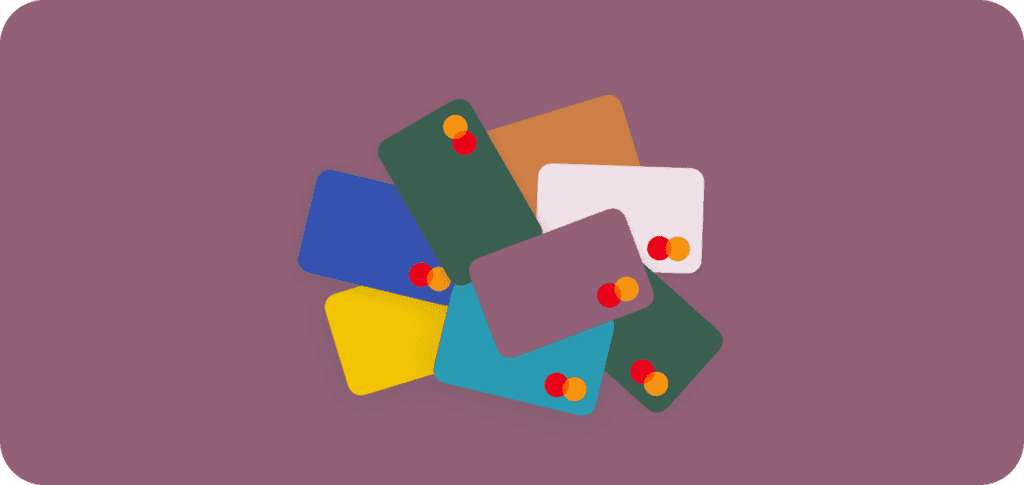 Companies need to manage their expenses meticulously. This involves working with the funds they have access to, whilst avoiding irregularities in bookkeeping at the same time. However, not all purchases can or should be made in cash or via bank transfer. That's why a cashless alternative is needed.
As accountants know, mixing personal cards with business affairs is not a good idea. To keep private and business matters separate and as transparent as possible, you need corporate cards to purchase products or services.
How corporate cards work
Corporate cards work the same as any other form of cashless payment for private use. They usually take funds out of a checking account where the money that's ready to spend is parked.
However, given the nature of corporate cards, employees who get to use them should receive a proper introduction. They should know how and when to use them, what happens when paying for non-covered purchases with them, and what the respective spending limits are. It's also important that they know the typical procedure when a card is stolen or lost.
The difference between debit and credit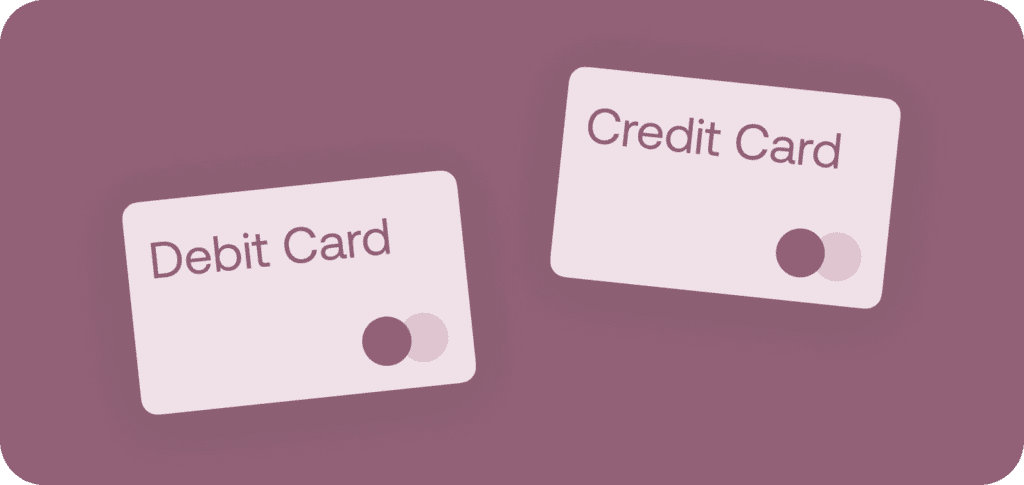 Companies can choose between debit and credit cards to let their employees pay cashless. Both have their own individual advantages regarding flexibility and spending options. When using a debit card, funds come straight from the connected checking account. This usually happens in real time, so the money is deducted immediately. Applying for a debit card is basically a no-brainer for one-man-businesses, as it's a low-risk solution to pay cashless in practically any shop. However, many do not cover Visa features and are typically not accepted by car rental companies and some airlines.
Using a credit card works a little differently. Here, the respective bank offers an individual credit line that can be maxed out, for example, with a monthly credit of £10,000. All payments during the month can add up to that amount and are deducted from the connected account at the end of the month or the beginning of next month. In the meantime, companies are able to work with their funds which gives them more flexibility and a positive impact on liquidity.
Instead of crunching numbers to make ends meet, they can 'loan' the amount from the bank and pay later. In this sense, credit cards are a greater risk for banks, so it's crucial to check their interest rates for delayed payments.
There are two main types of corporate credit card: individual liability and corporate liability.
Having an individual liability card means that the cardholder is responsible for paying charges or fees associated with using the card. Those expenses can be claimed as business expenses and then be reimbursed by the company.
A corporate liability credit card, on the other hand, means that the company is responsible for paying charges. The only time employees may have to reimburse the company or pay the card issuer directly is if they misuse their corporate cards.
The benefits of corporate cards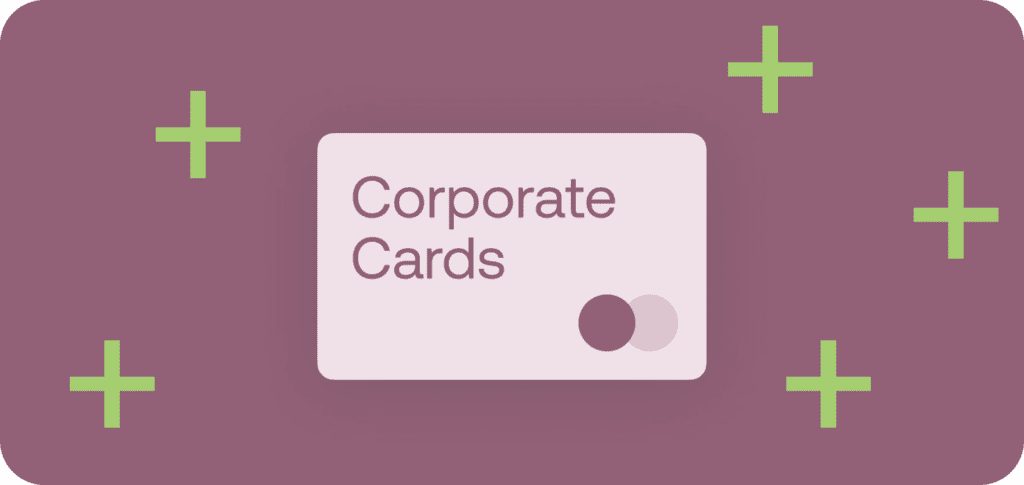 Corporate cards make expense management a lot easier. Maybe the greatest benefit for employees is the fact that they do not have to pay out of pocket for work-related purchases. Instead of using personal money and then having to be reimbursed for it, they can simply use the cashless payment method aka company money to buy what is needed.
When travelling for business, corporate cards also offer great benefits that otherwise might cost too much. This includes travel assistance, emergency service and access to comfortable airport lounges—a plus for frequent travellers. The cashless option also gives employees the chance to pay for unexpected costs while they are away on a business trip. Moreover, cashback or rewards programs are a good way to save money while doing business.
Corporate cards can also be of great help if a business wishes to digitise and automate processes as much as possible. Managers and accountants get real-time access to spending to control their respective budgets. It's recommended to choose providers that allow managers to limit card use to specific spending categories, merchants, a certain amount or single transactions. This way, handing out a corporate card is a low-risk decision with plenty of perks for employers and employees.
What banks offer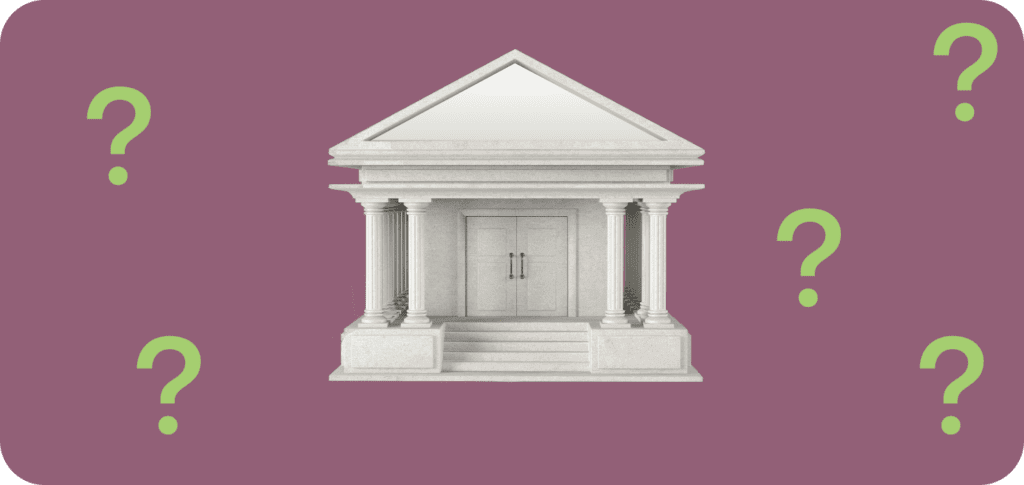 The traditional way of obtaining a corporate card is applying for it via the UK's leading banks. For example, companies can get one from HSBC with up to 56 days of interest-free credit and monthly bank statements for each cardholder.
American Express offers several versions of its popular credit card—from classical green with basic membership reward features up to platinum status for unlimited access to hundreds of airport lounges worldwide. Lloyds Bank and Barclays are other popular providers with their own flexible offers. Business owners can choose between Mastercard or Visa.
The application process
When it comes to applying for a corporate card, smaller businesses in particular can run into a few problems. Of course, banks have specific criteria and cannot simply hand out cards left and right. This means that the registration process can sometimes take longer than expected. It's possible to speed up the process when the following criteria are met:
Proof of registration as an S corporation or a C Corporation
Providing information on beneficial owners and possible shareholders
Proof of sufficient liquidity
Evidence of cash flow
Convincing annual revenue
On top of that, applicants need to provide all required tax information. After a successful application, businesses will probably have to pay higher charges than for personal credit cards, but in return they will benefit from attractive incentives.
Grow faster with corporate cards from Moss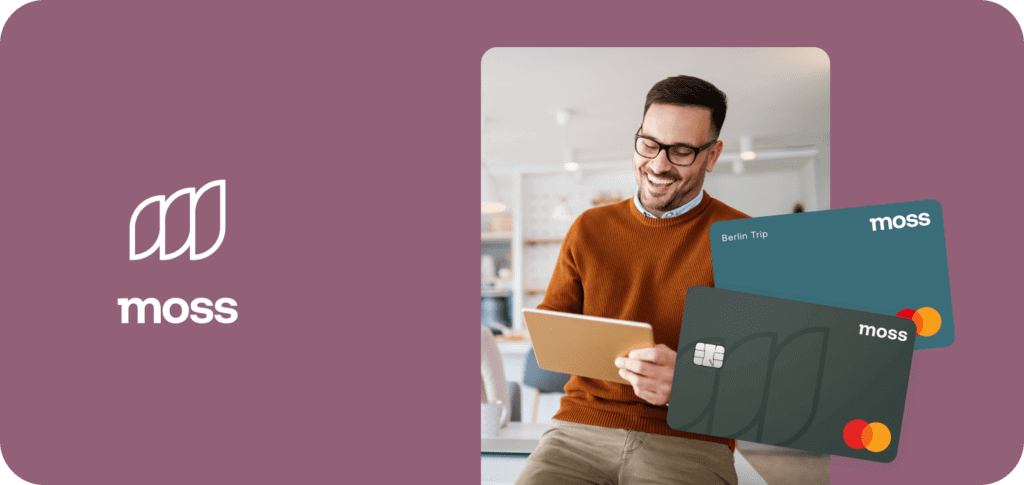 Obtaining a traditional corporate card can be a challenging process. That's why Moss has tackled the issue to provide a simpler solution. We want businesses to thrive at every development stage, so we have found ways to provide companies with the perfect fit for their situation. Whether they're looking for physical corporate cards for the whole team or virtual cards for one-time or limited use—we've got them covered.
Moss Debit comes with special perks for the company that can make daily business life a lot easier and help save money:
​​No risk assessment
Quick and easy top-up in Moss wallet for direct spending
Real Mastercard® features and therefore accepted all over the world
0.4 per cent cashback
Moss Credit, on the other hand, is especially aimed at businesses that are looking for a high spending limit of up to £1 million per month and attractive payment terms of up to 60 days.
With cards from Moss, every small to medium-sized company can get their expenses under control. Every member of the team can get their own corporate card, which has a positive impact on accounting, too: Person- or purpose-specific payment cards allow the entire team to pay for work-related services or products and upload receipts with a single click. This helps assign all payments to the respective cost centre.
Why stick to old business routines when Moss could have you covered? We also provide great financial insights in real-time, the ability to export data to Xero via its smart interface, a simplified way to manage reimbursements and streamlined invoice management for effortless and digital processes.
FAQs
What is a corporate card?
A corporate card is a cashless payment option for companies. Businesses can use a credit or debit card to pay for work-related purchases and therefore enjoy more flexibility and simplified expense management. Also, employees can profit from corporate cards as they significantly streamline daily work tasks.
How do I get a corporate card?
In order to receive a corporate card, businesses need to apply for one. Most banks offer corporate cards with special reward programs and cashback options. But there are also smart business solution providers such as Moss who offer them because using corporate cards goes hand in hand with efficient expense and invoice management.
What is the difference between debit and credit cards?
While debit cards deduct money from the connected checking account immediately, credit cards have an individual credit line that can be maxed out. At the end or beginning of each month, the total amount is deducted from the connected account. This option gives companies more financial flexibility to work with funds.
What are the benefits of corporate cards?
Corporate cards can make out-of-pocket payments from employees obsolete. Instead of reimbursing them for work-related purchases, the business pays directly. Corporate cards often come with reward programs and cashback options. Many high-value cards also give access to private airport lounges.
How long does it take to apply for a corporate card?
Debit cards are usually easy to obtain. Credit cards, on the other hand, need a bit more paperwork. The application and review time depends on the bank, if all necessary information is clear and accessible, and how well established a company is.
How can I prevent employees from misusing corporate cards?
It's crucial to train employees on the Dos and Don'ts of using corporate cards and letting them know the consequences of their actions. Many corporate cards have useful features which allow companies to limit their use significantly. For example, it is possible to restrict a card to a certain expense category.
Latest posts by Henry Bewicke