Have you ever asked yourself: What does Bacs payment mean? Then look no further: We have compiled all the answers, so upcoming payment processes will run smoother than ever. The service is great for transferring money between UK accounts and avoiding unnecessary effort and fees. In the following guide, you will learn how it works.
What is Bacs payment: meaning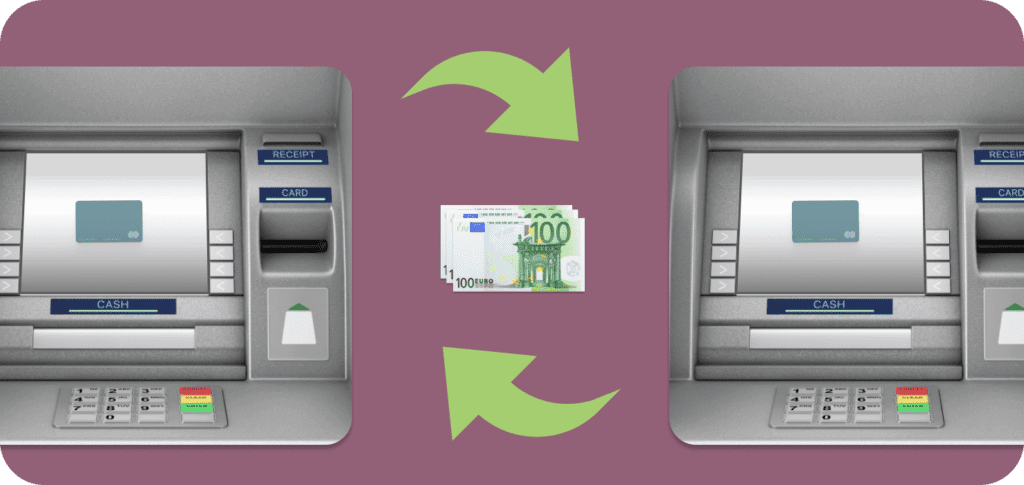 When having an account at a national bank and living in the United Kingdom, the term Bacs payment will likely pop up. Bacs is short for "Bankers Automated Clearing System" which deals with money transfers from one UK account to another. The electronic process managed by the retail payments authority Pay.uk is a very common way to pay for bills or receive salaries and pensions.
Billions of transactions go through every year, which makes the service one of the most popular money transfer options nationwide—for businesses and private individuals. There are two different Bacs schemes that help simplify payments on a daily basis: Bacs Direct Debit and Bacs Direct Credit.
Bacs direct debit
Direct debit is considered a simple and reliable way to pay for financial commitments. This includes common household bills from streaming subscriptions or a mobile phone contract, but also recurring or infrequent business payments. Customers set up an instruction for their payment service provider that an organisation is authorised to collect money from their account.
Direct Debit is considered a typical pull payment, as receivers can pull the amount without asking for permission every single time. These are the most important benefits:
a safe and reliable payment option for both parties involved
a cost-effective method to pay regular or occasional bills
reduces administrative work and the need to chase payments from clients
it is fast and easy to set up or cancel a Direct Debit
The amount and payment dates can vary, but the customer has to be notified about it in advance, so there still is full control over the cash flow.
Bacs direct credit
Most organisations use Bacs Direct Credit for paying salaries or wages. According to Bacs, eight in ten UK employees receive payment this way. It is also a helpful and cost-effective option to make supplier payments, handle insurance settlements and pay out refunds or pensions.
Bacs Direct Credit is a typical push payment, as it is initiated by the sender. It comes with several benefits for those receiving and transferring money—such as the following:
Cuts administration costs by saving time in the authorisation process
Improves cash flow management as transfers can be planned
Saves money by reducing the use of cheques
These benefits make Bacs Direct Credit a favourable solution for many organisations which desire to work more efficiently and cost-sensitive.
How to make a Bacs payment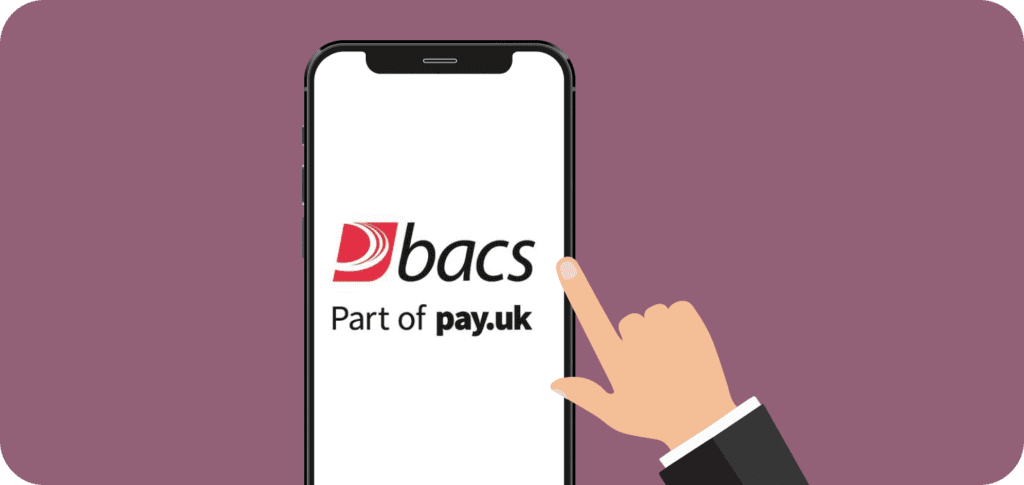 When setting up Direct Debit, payers need to fill out a Direct Debit mandate first. This gives companies or individuals the permission to pull communicated amounts of money on a regular basis.
In order to make Bacs Direct Debit payments with your personal or business banking service, you need to have the following information:
Name of the payee
Name of the bank
The payee's bank account number
The payee's sort code
Your personal bank information
If a business wants to use Bacs Direct Debit to collect payments, the Bacs-approved Bacstel-IP software has proven to be useful. Alternatively, it is possible to initiate payments via a Bacs-approved bureau or a third-party provider.
For a Bacs Direct Credit transfer, the following information is needed to proceed:
full name of the recipient
name of the recipient's bank
recipient's account number and sort code/ IBAN and BIC
The Bacs Direct Credit service is available to any UK bank account and accessible via online banking or the respective bank's branch. For regular payments, adding a standing order payment or using a template can be helpful to reduce the effort of entering the recipient's data over and over again.
Tip: Before using Bacs payments, businesses need to receive Service User Number (SUN). This is a six-digit reference number which is needed to identify the business when using Bacs Direct Credit or Direct Debits. The company's respective bank is able to help with registration.
How much does Bacs payment cost?
Receiving a Bacs payment is completely free of charge. And even setting up a Bacs payment does not cost a fortune. Depending on the amount and the bank's policy, we are talking about a few pennies per transaction, if the bank charges customers at all.
That is one of the main reasons why Bacs payment is so popular all over the UK. Compared to instant money transfers, this is an affordable and easy way to pay bills, salaries and more. However, users have to accept that the clearance time is longer than with the current real-time services available.
Clearance time for Bacs payments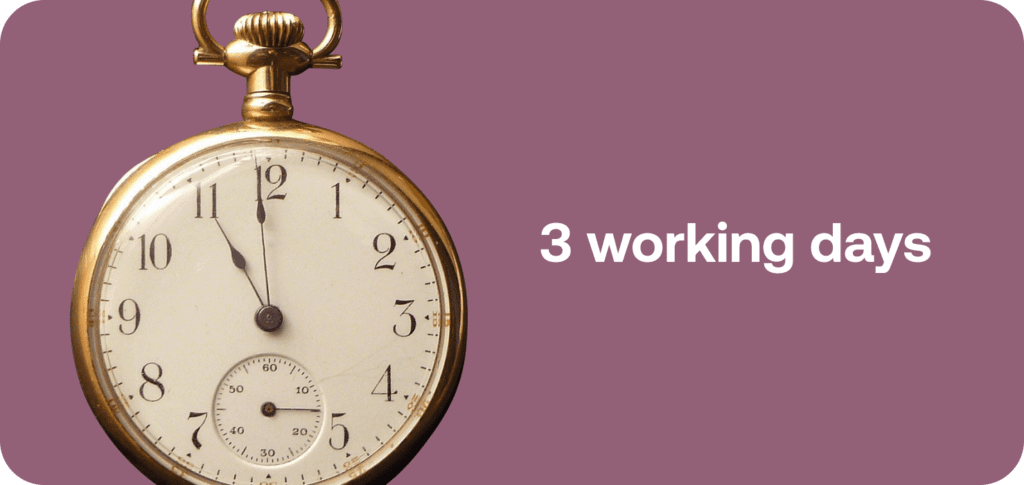 Sometimes, the payment time can be crucial and businesses or individuals need to know when their money arrives. Bacs payment is a reliable way to predict when funds appear on the payee's account but it still takes a little bit of patience. Usually, recipients and senders should expect the process to take three working days.
Of course, this calls for another important question: A Bacs payment made on Friday: When will it clear? As Saturday and Sunday are not considered working days, clearance can be expected for Tuesday. However, it is important to think of the cut-off time for Bacs payments. All transactions before 7 PM are being processed the same day. After that, senders and recipients need to wait another working day for the payment to clear.
Alternative money transfer options besides Bacs payment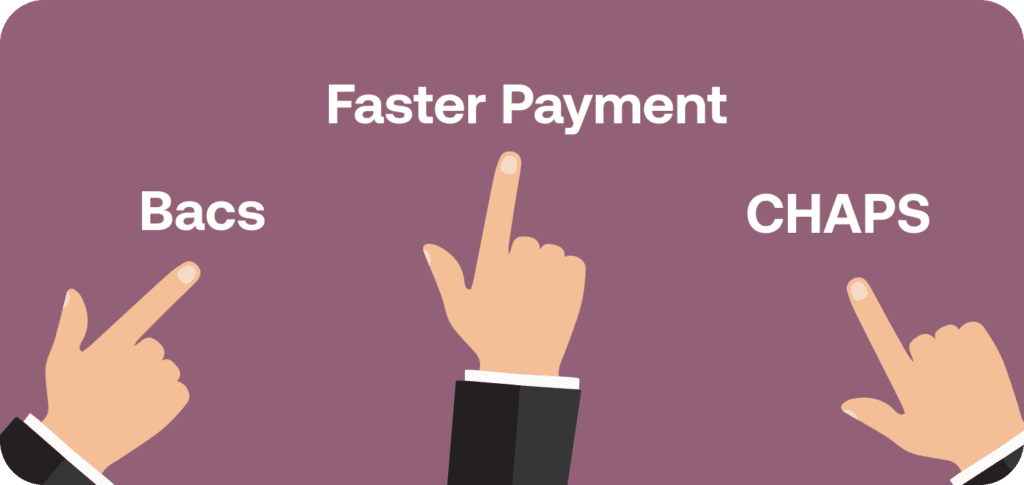 Bacs payment services were introduced in 1968. Since then, UK's top banks have embraced it to simplify electronic money transfers for their customers and business partners. However, Bacs payment is not the only bank-to-bank transfer available in the United Kingdom. Depending on the payer's individual needs, there are other options available. One of them is Faster Payments which allows for instant transfers. The service is suitable for users who rely on a quick money transfer, for example when buying a used car or washing machine with savings. For businesses, there usually is a transaction fee which is around £2.50 to £5.
CHAPS is another transfer service. The abbreviation stands for "Clearing House Automated Payment System". It runs through the SWIFT system and is used for same-day transactions of high value. It can be used for buying property and paying VAT. But it also costs significantly more: The fee varies between £15 and £30, so CHAPS usually makes sense for payments of £10,000 or more.
For overseas transfers, SWIFT (short for "Society for Worldwide Interbank Financial Telecommunication) can be the right choice. The network lets banks communicate securely with each other, so payments are cleared safely. As several banks are working together to send the money, additional fees from several banks can apply which might result in a reduced amount of money on the recipient's side. This can sum up to £25 to £40 plus possible added fees for intermediary banks.
Bacs payment: stay in control of cash flow with Moss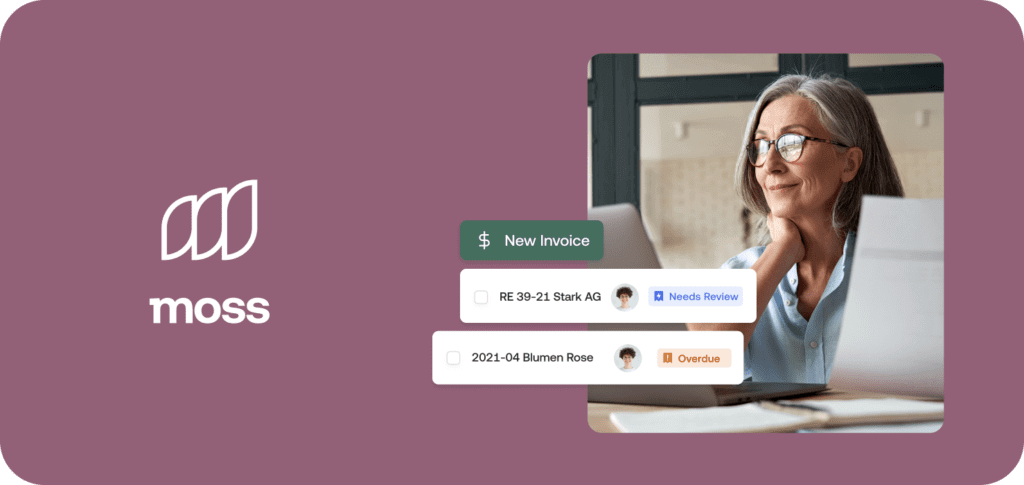 From suppliers to employees: Nearly every company has regular financial commitments that require in-time payment. Keeping track of the budget as well as in- and outgoing funds is crucial to maintaining a stable and healthy business. With Moss, you can keep track of your spending in real-time, as we provide efficient insight tools to help structure the overwhelming amount of data you are facing every day.
Moss is able to consolidate transactions from all connected accounts automatically. Whenever money is added or deducted, it will show up in the stats to give a clear overview of the company's liquidity. You might use one account for Bacs Direct Credit payments for your employees and another one for receiving Bacs Direct Debit, but with insights from Moss all information is available in one place and ready to be analysed properly. This can even turn out to be a competitive advantage since you can plan better and make perfect use of your funds when others might struggle to make sense of their numbers.
On top of that, Moss is proud to offer ideal solutions for small and medium-sized companies that wish to optimise their budgeting processes. Our service also helps managers and CEOs in adhering to their budgets. If needed, they can also hand out corporate cards to their employees in order to streamline business expenses in the most flawless way possible. We know that a transparent cash flow can positively affect companies and we are here to support businesses on their way to more efficient financial processes—day in and day out.
FAQs
What is a Bacs payment?

A Bacs payment is an electronic transfer service that is offered by all major banks in the United Kingdom. With Bacs Direct Debit regular or occasional payments such as subscriptions or phone bills can be paid without having to use a standing order or make monthly payments. Bacs Direct Credit is mainly used for paying salaries, pensions and other regular transfers.
What does Bacs payment mean?

Bacs is short for "Bankers Automated Clearing System" and it refers to a money transfer service that is widely popular in the United Kingdom. It is used to send funds from one national account to another—without having to pay significant fees.
How long does a Bacs payment take?

Bacs payment is not a real-time money transfer service. Therefore, you need to be patient and wait for three working days for the payment to clear. Please keep in mind that Saturdays and Sundays are not considered working days, so the weekend can delay the payment.
How do I make a Bacs payment?

In order to send money via Bacs, you need the payment details of the recipient. Businesses need to register for a Service User Number first to collect Bacs Direct Debit. Senders need to fill out a debit mandate which allows companies or individuals to collect funds from their accounts. Bacs Direct Credit is pushed by the sender and therefore does not need confirmation.
I made a Bacs payment on Wednesday. When will it clear?

A Bacs payment takes three working days to clear. If the money got sent on Wednesday, it would appear on the payee's account by Friday. However, payers have to consider the cut-off time. Therefore, urgent Bacs payments should be made by 7 PM to be cleared as fast as possible.
Is Bacs payment a fast money transfer option?

Bacs payment is not an instant payment option. It takes three working days for the money to show up in the payee's account. There are quicker ways that allow for nearly immediate payments. Those can be made via Faster Payments which assure money transfer within two hours.
Latest posts by Henry Bewicke