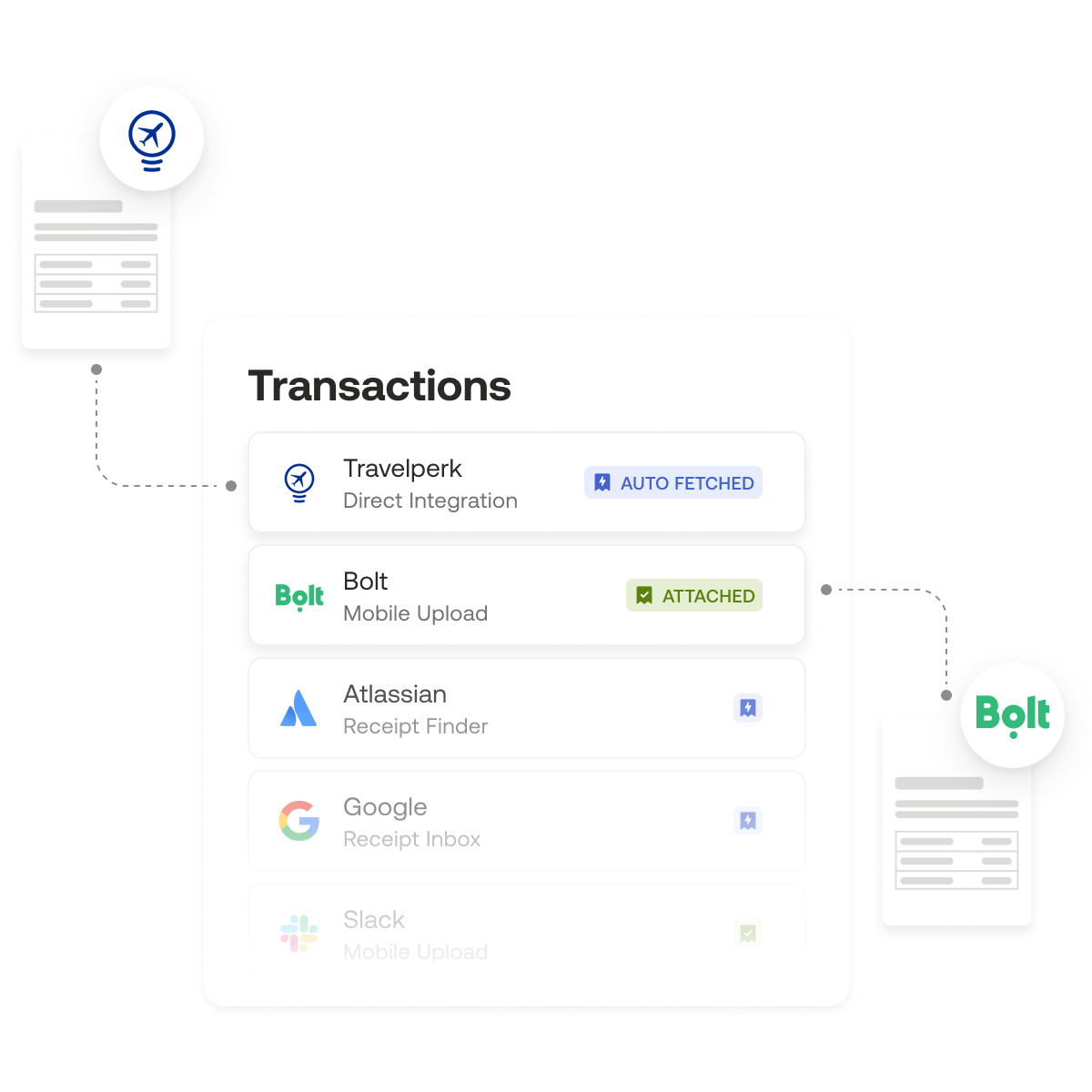 RECEIPTS
Receipts. Simplified.
Moss can save your team up to 2.5 hours per month with four convenient ways to attach receipts. Our top pick? The Receipt Finder, which automatically fetches receipts from 50+ supported merchants and matches them to card transactions. A direct integration with TravelPerk also makes fetching receipts for travel bookings effortless. Now how will you and your team spend that extra time?
Four ways to easily capture receipts
Receipt Finder
Employees can connect their work Gmail or Outlook accounts and automatically fetch and match receipts to their transactions.
Direct integrations
Make business travel a breeze with our direct integration with TravelPerk. Moss will pull the transaction directly from TravelPerk and match it on our platform, as soon as a card payment is made. And more integrations to come soon!
Receipt Inbox
Forward receipts directly from your email - they'll be matched with the right transaction, resulting in fewer accounting errors.
Snap & go with mobile
On the go and don't want to lose your receipt? Snap a photo on the Moss mobile app and attach it to your transaction in just seconds.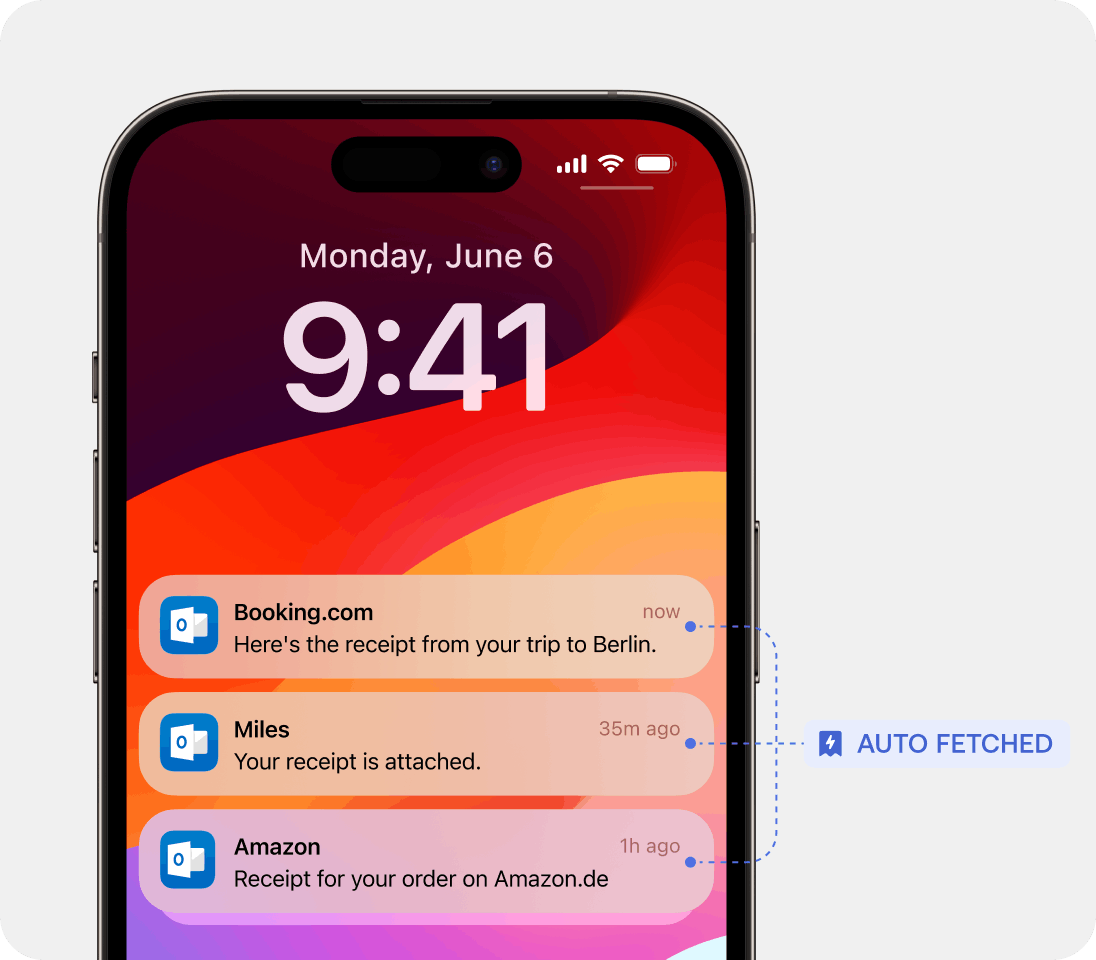 Receipt Finder
Help your team get their receipts in on time, every time. Once the Receipt Finder is activated and connected to a company Gmail or Outlook account, your team won't need to upload receipts from key merchants! Moss will fetch receipts from their mailboxes and match them to the correct transaction. And voila! Secure, paperless receipts.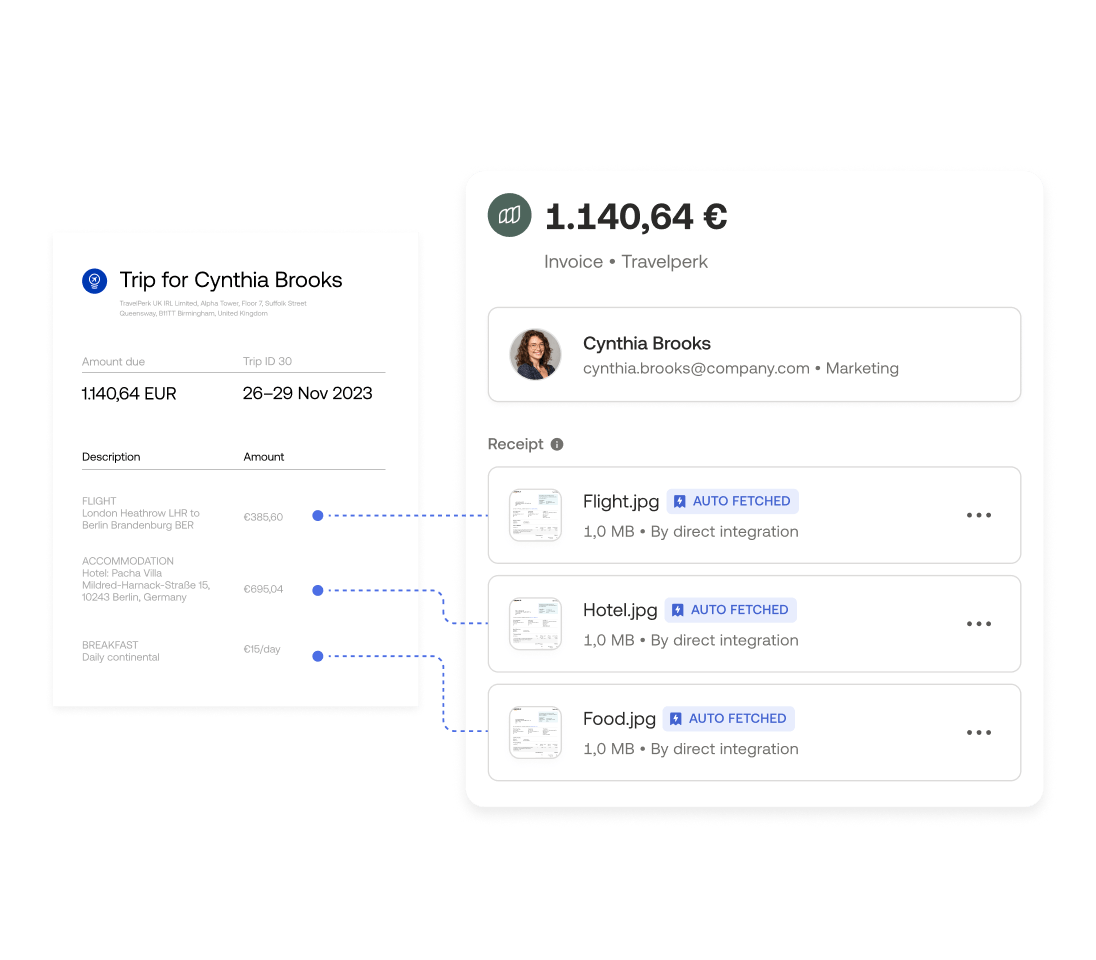 Direct integrations
Simplify your business travel expense management and unlock the ultimate zero-touch experience with Moss's direct integration to TravelPerk. Sit back and relax as Moss effortlessly matches TravelPerk receipts to Moss card transactions. Streamline your workflow, enhance your efficiency, and save time. Stay tuned - we're working on more great direct integrations!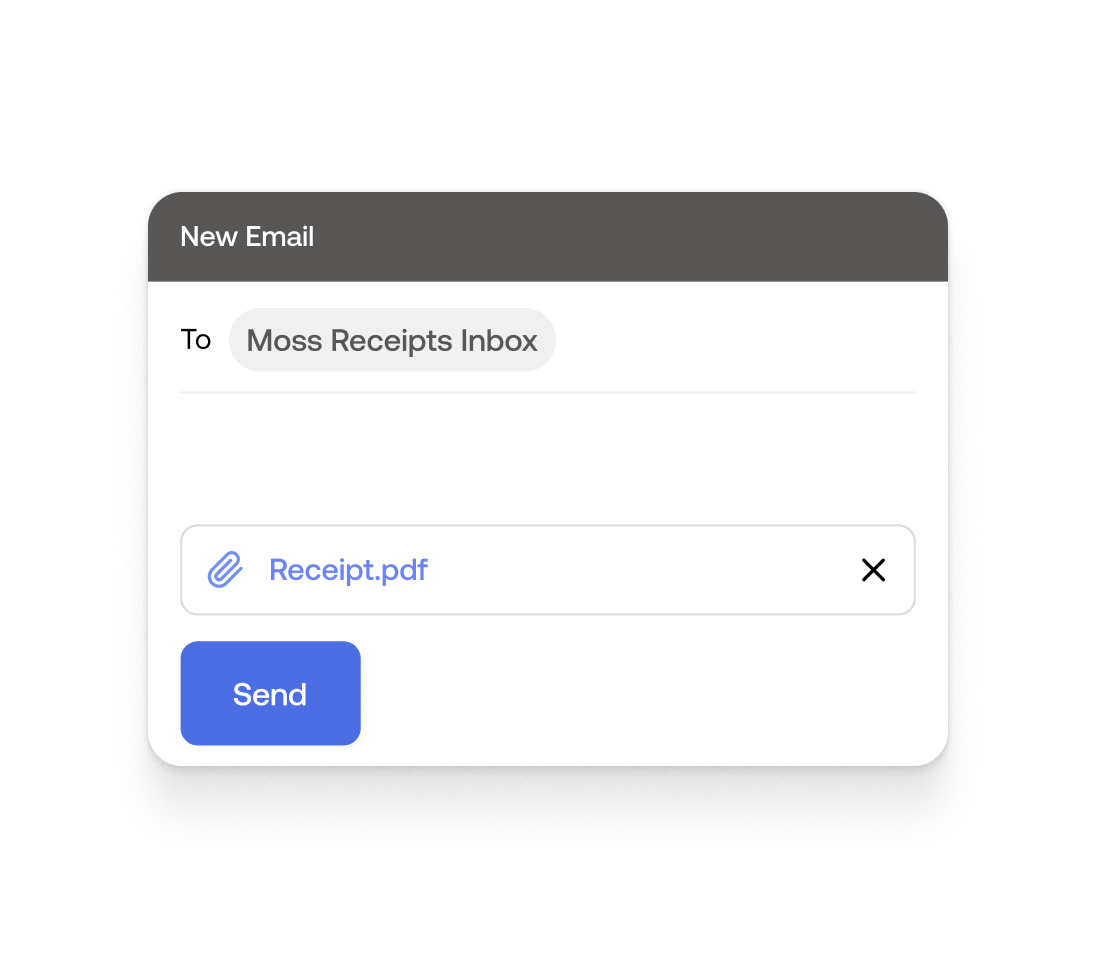 Receipt Inbox
You can also simply forward the receipts directly to your Receipt Inbox. Moss automatically matches the receipts to the right transactions in the dashboard, and fills out receipt data automatically with OCR technology.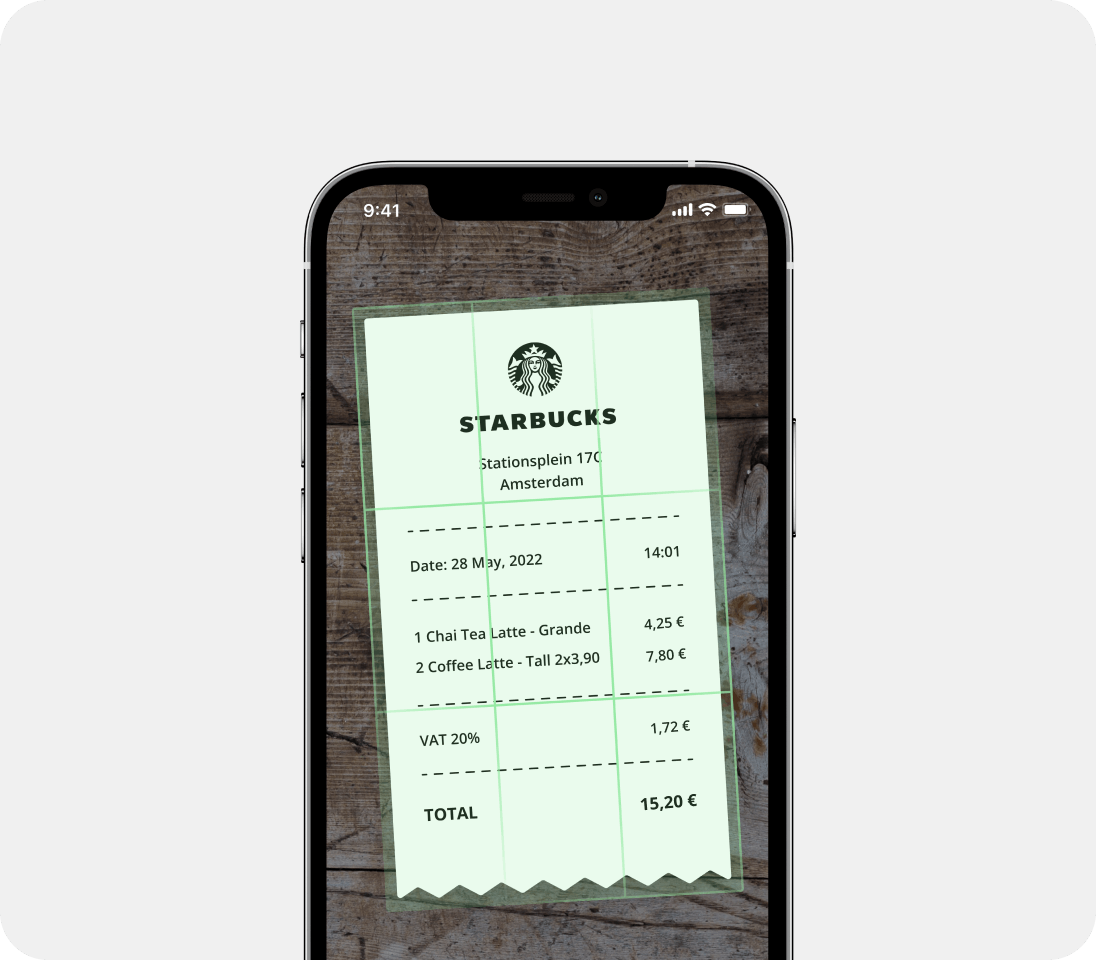 Snap & go with mobile
Even when you're on the go, you can effortlessly capture and upload receipts directly from your smartphone. Simply snap a photo of the receipt, upload it to the mobile app, and it will be securely stored in your account. This ensures that all your receipts are safely organised and accessible whenever you need them.
How it works:
Submit receipts, your way.
Receipts can be captured in four ways:
1. Receipt Finder
2. Direct integrations
3. Moss Receipt Inbox
4. Moss mobile app
Easily review receipts.
With automation rules, there's no need to fill in accounting details for recurring spend; Moss will fill in the information for you. If a receipt is incorrect, you can mark it as invalid and leave a message explaining why. Employees will be directly notified.
Monitor and track missing receipts.
The automated missing receipts policy makes it easy to reduce spending limits or block cards of employees with too many missing receipts. Employees will be notified directly by email and in Moss.
Automate bookkeeping.
Receipts can be directly exported with a click. Moss integrates with your accounting software, making month-end bookkeeping seamless.
Want to know more?
Book an introduction call with one of our product experts to hear how Moss products could revolutionise the way you work.