As far as digital wallets and virtual card payments go, Apple Wallet and Apple Pay are some of the most well known and widely used apps on the market. But many people are unfamiliar with the setup process and the concept of digital payments in general.
In this guide, we'll cover everything you need to know about making payments with Apple Wallet and Apple Pay (yes, they're different apps!). We'll explain how to add your cards, how to verify your payments in-store, and discuss the various benefits of virtual card payments.
What is the difference between Apple Pay and Apple Wallet?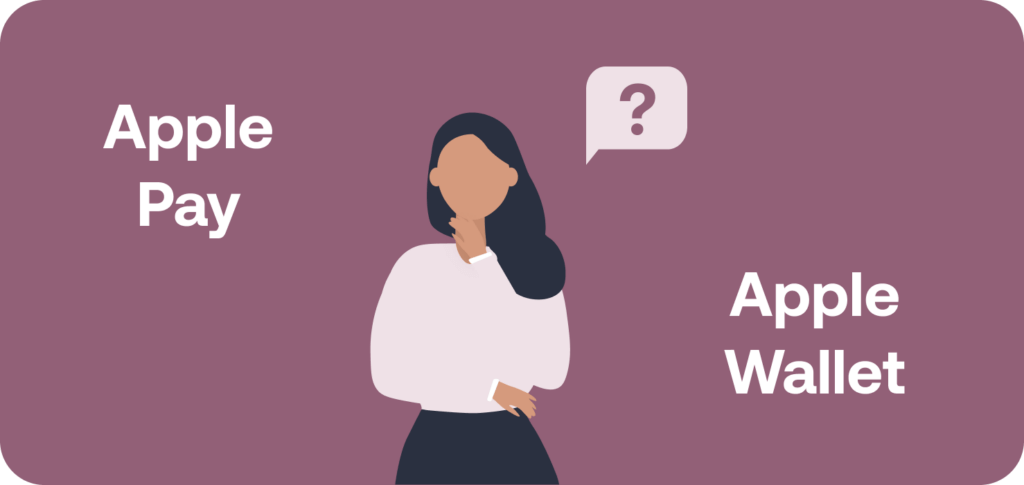 These two apps are often referred to interchangeably, but they have different roles. The best way to differentiate them is to think of them like this:
Apple Wallet is where you securely store your digital cards, coupons, tickets, boarding passes—anything you'd typically store in your physical wallet.
Apple Pay is the app you use to present your payment method of choice when it's time to pay. It uses NFC and your fingerprint or Face ID to verify payments.
This is why it's the Apple Pay logo you see at the checkout in shops. It's also why Apple Pay is probably the first app that comes to mind when most people think about digital payments. In fact, Apple Pay has the highest transaction volume of any digital payments app or digital wallet outside of China, where Alipay and WeChat Pay reign supreme.

Although they're separate apps with their own functionality, Apple Wallet and Apple Pay are fundamentally intertwined. You have to add a valid payment card to Apple Wallet to use Apple Pay for payments. But you can use Apple Wallet to store documents, IDs and passes, etc.
Apple also recently released 'Tap to Pay' capabilities on iPhone, which allows merchants to accept payments via Apple Pay. This will partially replace the need for portable card terminals because NFC payments will take place using two iPhones. For now this option is only available in the US, but it probably won't be long until it rolls out in other countries.
How do you add cards to Apple Wallet?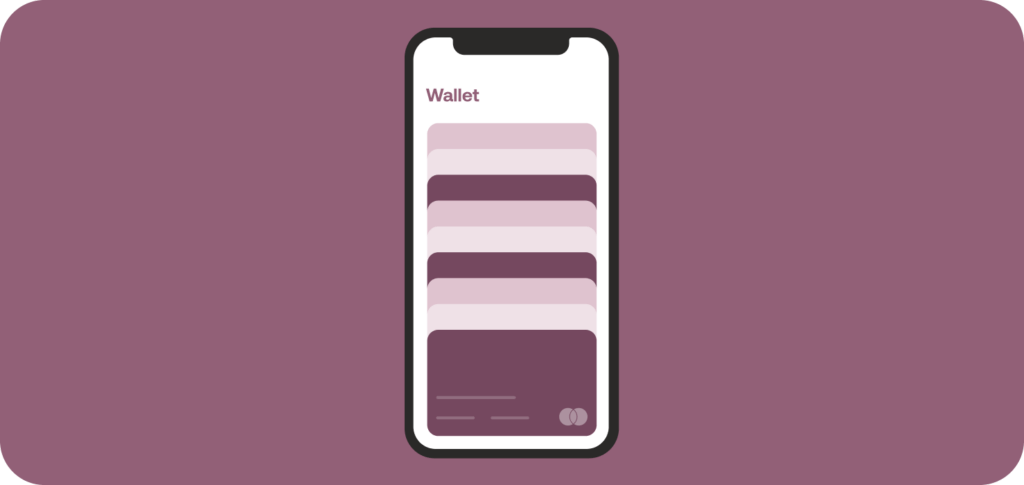 Apple Wallet comes pre-installed on iPhone, iPad, Mac and Apple Watch, so you can set up your cards for payments right away. This now includes Moss corporate credit cards.
Adding cards to Apple Wallet is easy. To do it on iPhone, follow these steps:
Tap '+' in the Apple Wallet app to add a new card
Select the card type. Choose 'Debit or Credit Card' for a payment card. You can also add travel cards or IDs. Then press 'Continue'.
Follow the instructions on screen to add your card details.
Verify your details with your card issuer. This process varies depending on the issuer, but it may involve a verification SMS message or having to open your banking app.
The process for adding cards to Apple Wallet on Mac, iPad and Apple Watch is effectively the same. Apple Wallet will use the first card you add as your default payment method. If you want to set another card as the default, simply drag and drop it to the front of the card pile.
The majority of card suppliers support Apple Pay, but there are a few exceptions. If you're unsure, check with your card issuer. This also applies to store cards, i.e. credit cards that are issued by stores or groups of retailers. If you want to add a store card to Apple Wallet, you'll have to check with the supplier to see if they support these apps. Some store cards function exactly like normal credit cards, so you won't have any issues adding them to your digital wallet.
How do you add loyalty cards to Apple Wallet?
Most loyalty or membership cards for individual brands now use QR codes or barcodes instead of the typical chip or magnetic strip format of payment cards.
There are two different ways to add QR code-based loyalty cards to Apple wallet:
Via notification when you use the loyalty card in another app, like email or web browser. Tap 'Add to Apple Wallet' and your card will appear in Apple Wallet.
Scan the QR code in the camera app and follow the instructions on screen.
What benefits do you get from using Apple Wallet?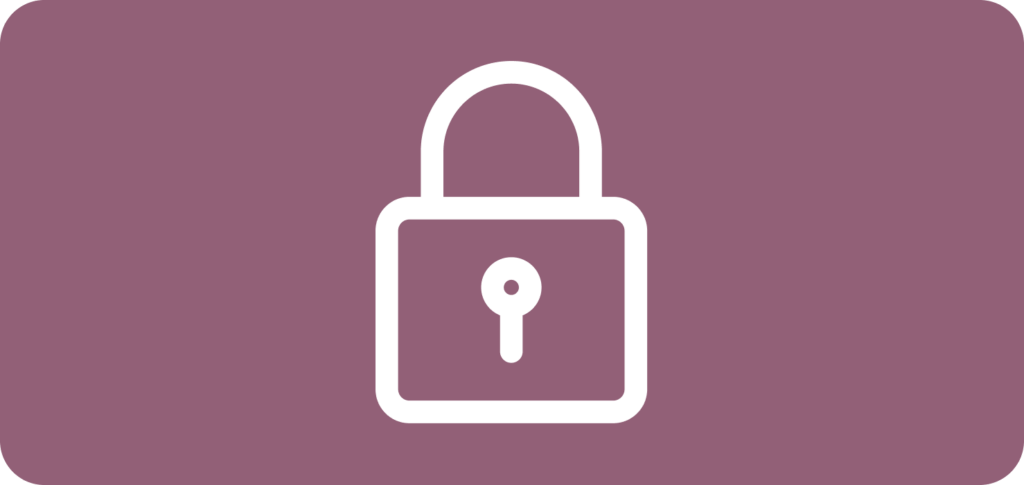 To understand the potential of Apple Pay and digital payments as a consumer, you simply need to look at adoption forecasts for the next couple of years. According to FIS Global's Global Payment Report, digital wallets will account for 52.5% of ecommerce payments by 2025. Apple Pay alone is expected to reach $4 billion revenue worldwide in 2023, according to Statista.
As far as market penetration goes, the UK is one of the strongest markets for Apple Pay, beating both the US and Canada. Its convenience and security have made it a ready replacement for card payments and cash.
These figures say a lot about digital payments and what they offer consumers over conventional payment methods. But let's break down the benefits in a bit more detail:
Convenience. Apple Wallet lets you keep all of your cards in one place, ready to use whenever you need them. This doesn't just include digital or virtual credit cards that you use to make payments. You can also loyalty or membership cards to Apple Wallet and collect points just as you would with normal cards. To use Apple Pay just hold your phone near a card reader and verify with your biometric information.
Security. Digital wallets are much more secure than physical wallets and physical cards. Your data is stored on your iPhone as a 'token'. This means that your card data can't be retrieved in any usable form, even if someone does manage to hack your phone. Payments are also verified using your fingerprint or Face ID, which is much more secure than a passcode or PIN.
Accessible spend data. Apple Wallet also displays data from your Apple Pay transaction history, as well as details for each individual transaction. You won't have to go into individual apps to see what you've spent because it's all there in one feed on your phone.
No spend limit. Unlike contactless payment for cards, which is limited to transactions under £100, there's technically no limit on Apple Pay for individual transactions. However, some card issuers limit the amount you can spend in one go. If this is the case, your payment won't go through as it's ultimately the card issuer who is making the payment on your behalf. Check that the payment terminal you're using has the Apple Pay logo. If not, it may not be able to distinguish your phone from an NFC card, and you won't be able to spend over the £100 limit.
How do you use Apple Pay?
To use Apple Pay you first need to add a card to Apple Wallet (see above). Once you've done that, you'll be able to use your default card at any vendor that accepts Apple Pay.
If you have an iPhone with Face ID, double press the side button. You can use your default card or swipe to select a different card. You'll then need to either verify with your face or passcode. Hold the top of your phone near the card reader and you'll see a checkmark appear on the screen once the transaction has been completed.
If you have an iPhone with Touch ID, simply touch the fingerprint sensor and hold the top of your phone near the card reader until the checkmark appears.
To use Apple Pay online, tap the 'Buy with Apple Pay' button when you see it on a website or in an app. Confirm the payment with your fingerprint, Face ID or passcode and you're done.
Use Moss cards with Apple Wallet and Apple Pay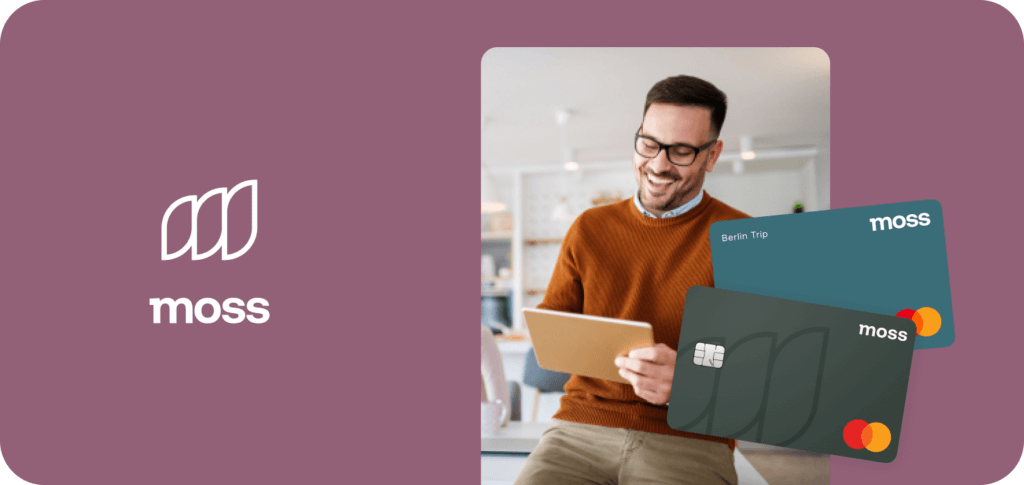 Moss customers can now add their Moss credit cards directly to Apple Wallet for an even easier spending experience. Use our high credit limit cards straight from your Apple devices with Apple Pay and benefit from a host of insights with Moss Insights. It's never been easier to manage your business expenses and benefit from the power of customisable expense cards.
With Moss, you can create unlimited virtual cards, with custom spend limits and budgets. You'll be able to track every detail of your team's spending and outgoing expenses across all departments. Meanwhile, your team will be able to use their Moss cards whenever they need without having to worry about the extra hassle or receipts or reimbursements.
FAQs
What is the difference between Apple Wallet and Apple Pay?
Both apps similar, but they perform different functions. Apple Wallet is used to store your digital cards and other things, like tickets and passes, on your phone. Apple Pay is the app that you use to present these cards to authorise your transaction.
How do you set up Apple Wallet?
There's no need to download Apple Wallet because it comes pre-installed on iPhone, Mac, iPad and Apple Watch. However, you will need to add a card to your Apple Wallet to pay via Apple Pay.
How do you add loyalty cards to Apple Wallet?
To add a loyalty or membership card to Apple Wallet, simply select 'Add to Apple Wallet' when you see a notification, or scan the QR code using the camera app.
What are the benefits of using Apple Wallet?
Apple Wallet is more convenient than using physical cards because you can store all of your cards digitally in one place. It's also more secure because your card details are tokenized, meaning the real card data is not stored on your phone.
How do you use Apple Pay?
The process is different depending on whether you have an iPhone with Face ID or Touch ID. Simply verify your identity with either your face, fingerprint and passcode and hold your phone near the card reader.
What is the spend limit on Apple Pay?
Apple Pay has no spend limit for individual transactions. However, depending on which card you're using, the card issuer may apply a spend limit for contactless transactions.
Latest posts by Henry Bewicke