Preview: How to optimise ad budgets in a downturn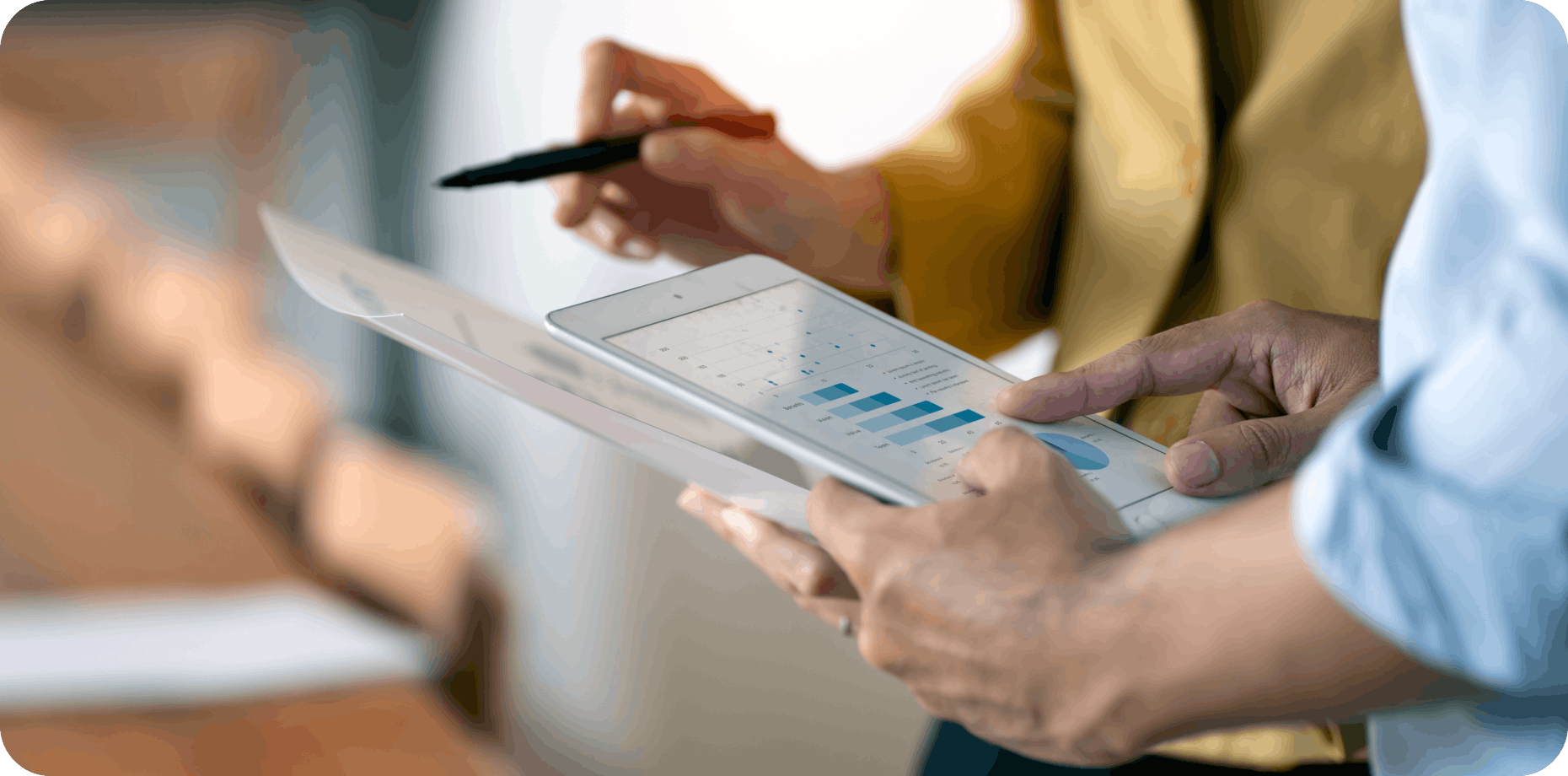 The past 18 months have been a challenging time for businesses thanks to widespread economic uncertainty. This has forced companies to cut back on spending and significantly reduce budgets in practically every department in order to increase financial health and sustainability.
As one of the main sources of indirect spending for businesses, digital advertising has been an area of particular interest for finance teams looking to trim budgets over the past year and a half.
Because digital advertising is essential for brand exposure and driving sales, CFOs need to be able to quantify the impact of any digital advertising cuts they make.
This requires having a holistic view of your entire cost base in order to identify spending inefficiencies and potential avenues for improving return on investment. However, many businesses are under equipped to get this level of financial visibility.
Our latest white paper — Indirect costs: Optimising ad budgets in a downturn — breaks down anonymised digital ad spend data from a pool of more than 1,000 companies to identify key digital advertising spends since the beginning of 2022.
Inside, we aim to answer three main questions:
What trends have driven the biggest indirect cost driver — digital advertising — this year?

Which platforms are seeing the biggest spending shift during the current economic uncertainty?

Should you advise your CMO to decrease ad budget in this economic climate, or vice versa?
From our analysis, we've identified a series of digital advertising spend trends that have emerged as businesses seek greater efficiency in their indirect costs. Read on for a quick overview of the insights and figures you'll find in the white paper.
Digital advertising spend over the past 18 months
Economic uncertainty over the past 18 months has had a significant impact on all types of business spending. This is clearly reflected in the figures for total digital ad spend over that time period.
To get a top level understanding of how digital advertising spend has changed, our white paper first looks at a range of spend data for the most popular digital ad channels, including Google Ads, Facebook Ads, Microsoft Ads, and more.
Here's a brief overview of the top level, month by month ad spend across these channels.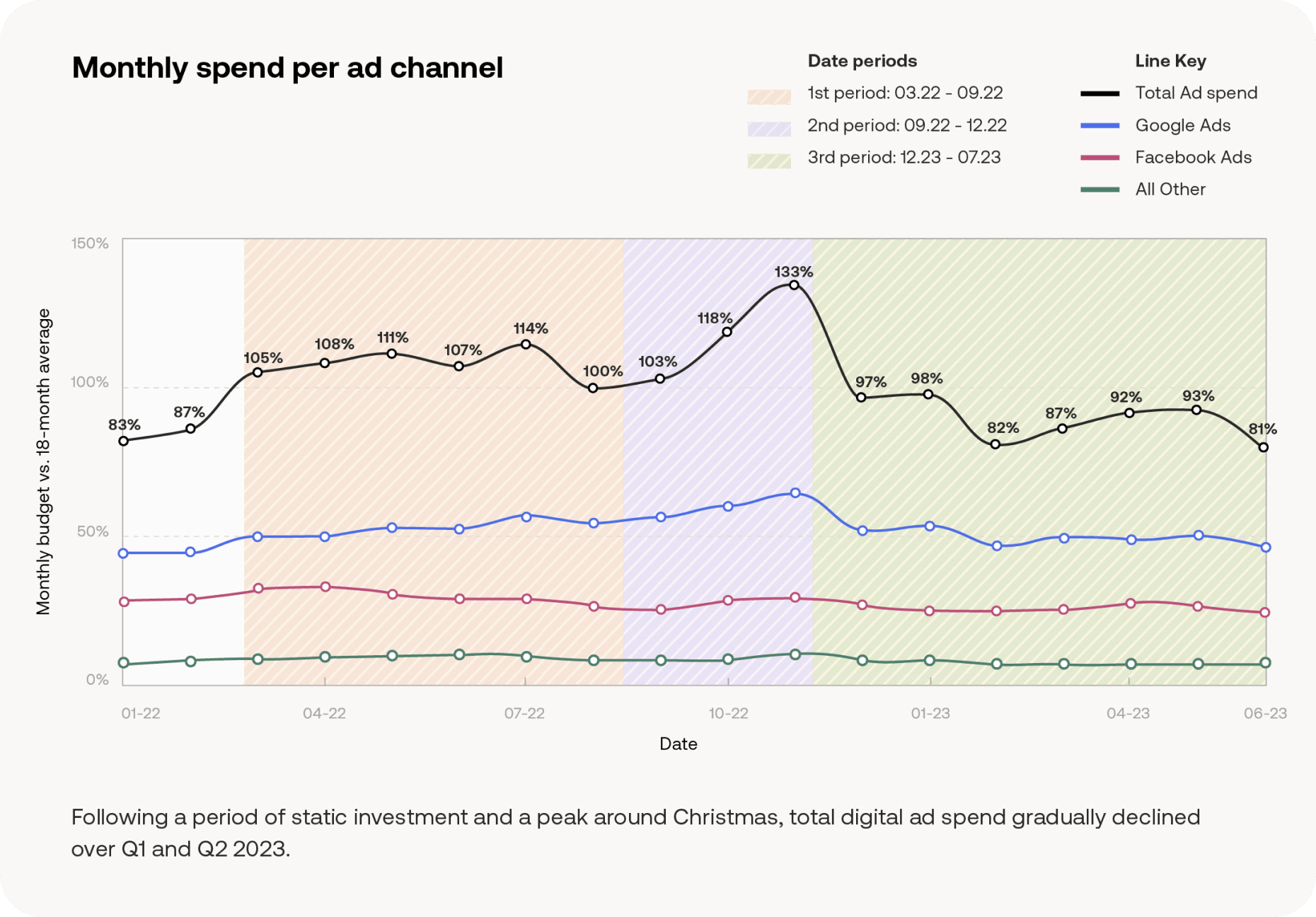 From the Russian invasion of Ukraine in February 2022, overall spend across all digital advertising channels fits into three distinct periods:
i) First there was a period of static investment, as businesses waited for clarity on the outcome of the war.
ii) In the lead up to Christmas there was a characteristic increase in advertising spend as businesses attempted to drive brand exposure and sales.
iii) After Christmas, businesses slashed their advertising budgets, and continued to reduce them gradually as the year progressed.
Digital advertising spend going forward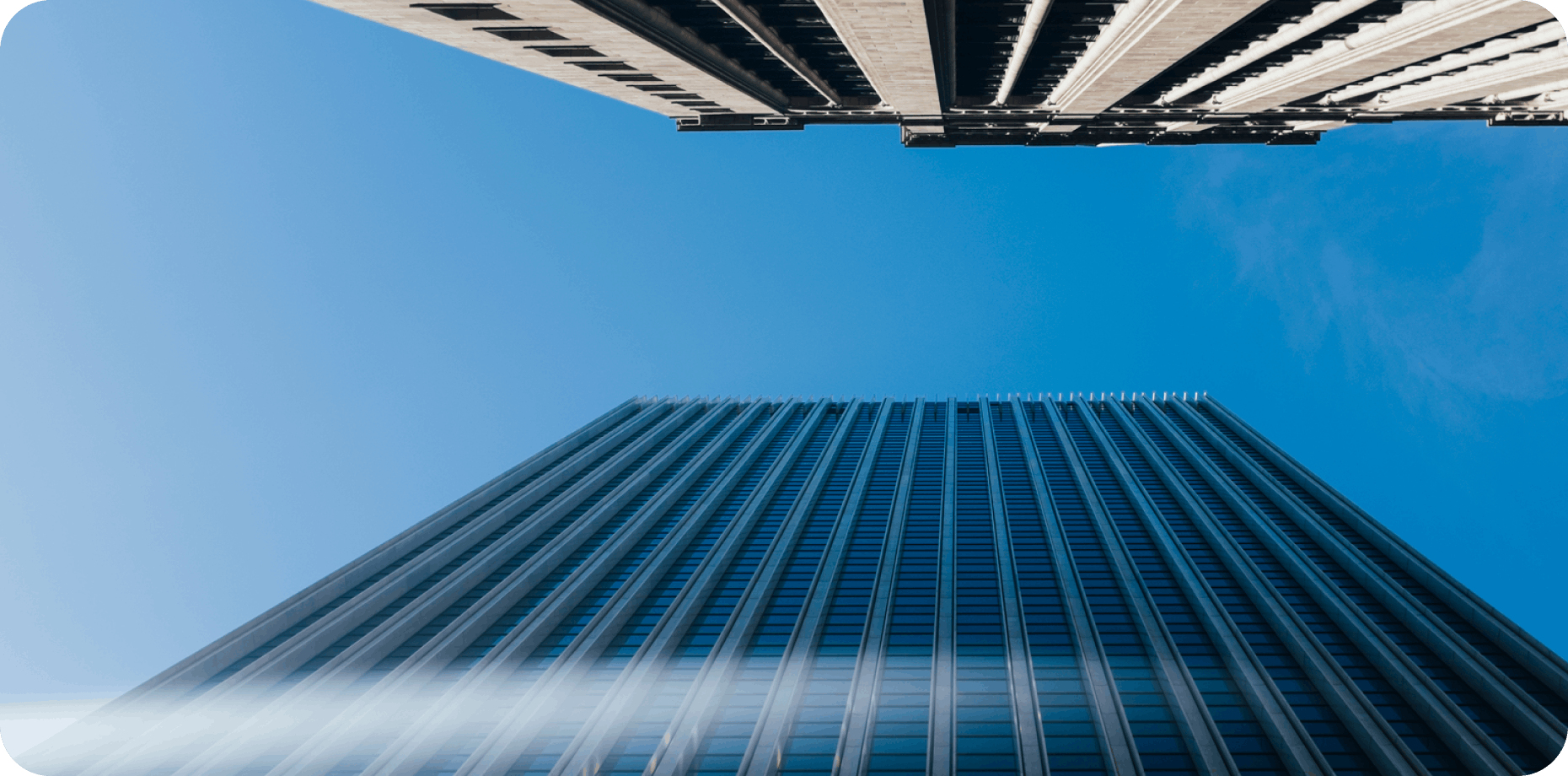 The spending trends we can see in the first two periods are reasonably straightforward. But the factors that influenced the gradual decline in spending in the third period are a bit less obvious at first glance.
Ad spend, and pretty much all spending, business related or otherwise, always suffers a big drop following the Christmas peak period. However, considering that ad rates have been down roughly 20% year-over-year in 2023 (Ezoic ad revenue index), the continued decline in ad spend this year is a little surprising.
To explain this we need to look a little more closely at what has been going on in the digital advertising sector. While ad rates are down, costs per click and conversion are up significantly. These are the metrics that really matter when it comes to campaign effectiveness.
Then there's AI, which was one of the defining topics of the year. As with practically every industry and sector, AI has had a huge impact on the future of digital advertising. AI is now being rolled out on major search engines, which will completely change the way consumers interact with ads and and all other digital content.
The impact of these factors is clearly visible in digital ad spend data. Beneath the top level decline in ad spend, there have been some notable increases and decreases in ad spend on specific channels. In this sense, it's fair to say that this year has been more of a period of transition than simply decline.
For more in depth analysis of digital ad spend trends over the past 18 months, download your copy of Indirect costs: Optimising ad budgets in a downturn.